They Say The End Is Coming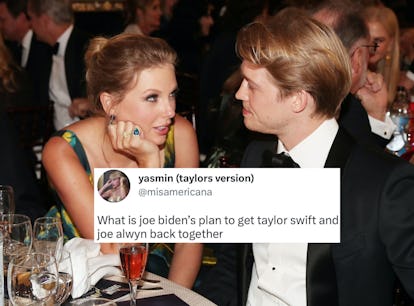 Swifties Are In Mourning After Taylor & Joe's Reported Breakup
Twitter: @misamericana; Christopher Polk/NBC/NBCUniversal/Getty Images
After six years together, Taylor Swift and Joe Alwyn have reportedly broken up. On April 8, a source told Entertainment Tonight that the duo had an amicable breakup a few weeks ago, which was apparently "not dramatic." Per the insider, "The relationship had just run its course. It's why [Alwyn] hasn't been spotted at any shows." (Swift is currently on her Eras Tour.) Following the rumors, fans were quick to point out one of Swift's set list swaps — she recently traded "Invisible String" (about two people fated to be together) for "the 1" (about two people who almost made it). Although Swift hasn't directly commented yet, Swifties are reacting to the reported breakup... and some are even leaving flowers on Cornelia Street, in honor of her song.
ICYMI, TikTok and Twitter are full of mourning fans, all going through the five stages of grief for Swift and Alwyn's relationship (though none of them have made it to stage five — acceptance — just yet). From sobbing over Swift's romantic lyrics to questioning if love is real at all, these fans are taking the rumored breakup to heart. Feeling ready to grieve? If you want company, here are some of the most relatable — and extra — fan reactions to the split rumors.
Clearly, Swifties are devastated about the reported breakup. But this isn't the first time Swift and Alwyn have faced breakup rumors. Explaining her song "Lavender Haze" in October 2022, Swift said, "Like my relationship for six years, we've had to dodge weird rumors, tabloid stuff and we just ignore it. And so this song is sort of about the act of ignoring that stuff to protect the real stuff."
Whether this counts as a "weird rumor" or legit breakup remains to be seen. Regardless, here's hoping the best for Swift and Alwyn — and anyone who lives on Cornelia Street in New York City. Based on these TikToks, it seems like the vigil for Toe (Taylor and Joe) is only just getting started.