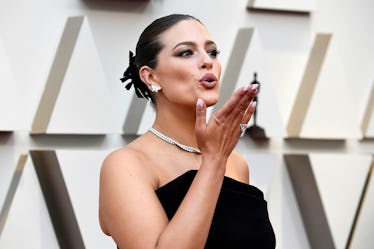 Everything Ashley Graham Has Said About Body Positivity Will Make You Feel So Empowered
Frazer Harrison/Getty Images Entertainment/Getty Images
If you casually scrolled through Ashley Graham's Instagram account, you'd probably think, "Wow, this woman is a stunning model." While every photo she uploads is absolute fire (at least in my opinion), she's also using her social media platforms to share so much more than just her modeling work. From promoting size inclusivity in the modeling industry to sharing tips for learning to accept and love whatever body you've got, she's become a positive role model who doesn't put up with trolls. Ashley Graham's quotes about body positivity aren't just empowering; the 31-year-old has proven time and again that she always knows how to keep it real, especially when it comes to conversations about body acceptance and self-love.
Graham has no qualms about calling out anyone who tries to body-shame her, but she's also been open about the fact that getting to such a comfortable place with herself has been a long journey. "We've been taught to say negative things to ourselves — to pinch our fat and be like, 'One day it'll leave,'" she said in an interview for SELF's October 2016 issue. "So I decided to break that cycle. But it didn't happen overnight." As Graham's career began to really take off, she learned to find confidence in her body. "And nobody — nobody — has control over my body but me," she said.
Here are a few more of the incredible body-positive messages Graham has shared over the course of her career.