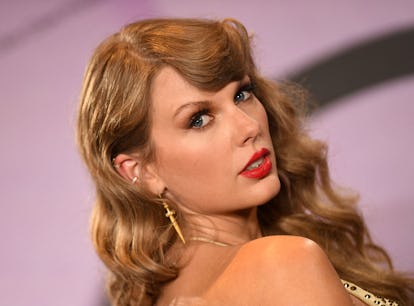 Is Taylor Swift's VIP Eras Tour Package Worth It? A Breakdown
The most expensive package is $899 — before tax and fees!
VALERIE MACON/AFP/Getty Images
Raise your hand if you also blacked out while trying to get tickets to Taylor Swift's Eras tour, because it was a trying time for every Swiftie out there. Not only was Ticketmaster's virtual queue a mess, but once you finally got through it, you were also faced with one of the most stressful steps of the process: trying to actually secure your ticket. With tickets being snatched up left and right, you may have just bought whatever was available at the time. If that was a VIP ticket, you might be wondering now, is Taylor Swift's VIP Eras tour package worth it? Let's break it down.
First of all, VIP packages are nothing new for a Taylor Swift tour. For many artists, VIP packages include a meet and greet and merch, along with some of the best seats in the venue for the show. However, fans know that Swift is one of the few artists who doesn't offer paid meet and greets. Since meeting Swift is not part of the package, it's fair to wonder what could be worth hundreds of dollars — which is how much these VIP packages go for.
I was lucky enough to receive a VIP package to Swift's Reputation tour for Christmas in 2017. Since it was a present, I didn't personally spend the money on the package, but my sister made it very clear she didn't think it was worth the splurge. Now that the Eras tour VIP packages are starting to arrive in the mail, Swifties are on the fence about whether they're worth their price as well. If you had to determine if they fall under the cop or drop category, some may lean towards drop and regret. However, Jordan Walker (@fairytaleswift) — who was at one of the Glendale Eras Tour shows — told Elite Daily it was "so worth it."
How Much Are Taylor Swift VIP Tickets For The Eras Tour?
Before you can even consider whether or not Taylor Swift VIP tickets are worth it for you, it helps to determine if they're even in your budget. According to Variety, the VIP packages for The Eras Tour range from $199 to $899. Here is a breakdown of each Eras Tour VIP tier and its price:
"It's A Love Story Package" — $199
"...ready for it Package" — $449
"I Remember It All Too Well Package" — $559
"Karma Is My Boyfriend Package" — $749
"It's Been A Long Time Coming Package" — $899
That's actually not that bad compared to the Reputation tour. For that, Ticket Crusader reports that VIP packages ranged from $495 to $895 and my sister and I had the $495 tickets — aka the "Kingdom Keys Package." Walker ended up getting the second-highest "Karma Is My Boyfriend Package" for both her and her mom.
Seats & Merch For Taylor Swift VIP Packages For The Eras Tour
All Eras Tour VIP packages get the same exact merch whether you're paying $199 or $899. Let's compare what I got for the Reputation tour versus what's in the Eras Tour merch package. I received the following:
A seat in the lower bowl section of the stadium
A collectible box with an exclusive video message from Swift built in
A Reputation book with exclusive photos and poetry from Swift
An LED VIP tour laminate to wear to the show
A commemorative ticket with a display case
A reputation stadium tour patch
A copy of the Reputation CD
The Eras Tour merch includes:
A reserved seat
A special edition set of four Swift prints, and each set "contains a hand-numbered print designed specifically for your show and city"
A commemorative Eras Tour VIP tote bag
A collectible Taylor Swift pin
A collectible Taylor Swift sticker
A collectible Taylor Swift postcard set
A souvenir concert ticket
An LED VIP tour laminate to wear to the show
Comparing the two tours, the merch inside each box is pretty much the same. Similar to the three Reputation tour packages, the only thing that separates the five different Eras Tour tiers is where your seat is located. The two most expensive packages — Karma Is My Boyfriend Package and It's Been A Long Time Coming Package — are on the floor and come with additional perks. Those, according to Walker, were "separate merch stands, along with early entrance, and access to seats a bit before non-VIP." The VIP merch booths were supposed to be crowd-free, but Walker told Elite Daily the lines were still long and she had to wait about 40 minutes in total. That includes going to different merch stands to find items that were sold out at others.
Another VIP Swiftie with floor seats, Izzy Mendoza (@izzy618), told Elite Daily they only had to wait about 20-30 minutes. While there is no exclusive VIP merch at these special booths, you may be able to avoid extremely long lines by going to them instead of the general ones. That may make the price of the ticket worth it if saving some time before the show is important to you.
You just have to justify whether spending close to $1000 per ticket, which is around what the floor tickets cost with all of Ticketmaster's fees and taxes, is reasonable for shorter lines. Since I'm someone who just recently realized there was a Reputation book at the bottom of my VIP package box, I'm clearly in it for the seats rather than the merch.
What's The View From VIP Taylor Swift Tickets?
You would expect the Eras Tour VIP package seats to be some of the best in the house, but where you're located — especially on the floor — can make a huge difference. For anyone who is VIP with floor tickets, you better hope you're not standing behind someone taller than you. Something you also don't think about until you're there is that everyone is trying to capture the best video to post on TikTok. "Always remind yourself that people love to put their phone up high to record," Mendoza warned.
Hats are another thing you don't expect to have to deal with, but remember a lot of people are going to use the Eras Tour as a chance to dress like they just got invited to the Met Gala. As much as you'll love seeing someone dressed up as a willow tree before the show, sitting behind them won't be as pleasant.
Both Walker and Mendoza mentioned there were parts of the show they couldn't see from the floor. Walker didn't mind, though, and shared that Swift "was so close most of the night." When she wasn't, the screens in the stadium allowed them to see everything else.
TikToker @bickybui also mentioned not being able to see the cool lighting and effects that happen on the stage from the floor, which can only be seen from above. Mendoza said that while this was their second time on the floor, sitting on the first tier of the stadium is better if you want to "see every detail of the show." The Eras Tour has some intricate sets you may have to watch back on TikTok later if you can't see them IRL.
Are Taylor Swift's VIP Eras Tour Packages Worth It?
Ultimately, I don't think anyone should have to spend close to $1000 to see a concert. The idea of collectible merch is exciting, but as some fans have pointed out, the Eras VIP merch is nothing to write home about. TikToker @louissuspenders was the first to share the Eras tour VIP package on TikTok, which many fans were disappointed in seeing. It looks like everything mentioned was included, like the pin, postcards, prints, and tote bag. However, the box itself doesn't appear to be as high quality as previous ones.
When asked if she thought the VIP merch was worth the $900 price tag, Walker said, "Not necessarily, but I love what was sent." Putting things into perspective, Walker revealed that it was her first experience with the package, saying, "I was happy to get the chance to even be VIP."
Walker, who had the second most expensive package, said, "I truly think it was so worth it. It was an incredible experience. She did a phenomenal job." The overall VIP ticket was worth it for both Swifties. According to Mendoza, VIP is something that every Swiftie should be able to experience at least once.
I have to agree that being a VIP for one of Swift's shows is something every fan should try to check off their Taylor Swift bucket list — if they can. The "if you can" is important. It's possible to have just as much fun and see more from nosebleed seats that are within your budget as well. Considering Ticketmaster canceled the public sale to Swift's Eras tour, just having something should be celebrated.
Even from my seat in the last row at SoFi Stadium, I'm going to have the best time shaking it off and cry-singing to "All Too Well (10 Minute Version)" as if I'm in the front row. And for anyone who is actually in the front row and managed to snag some VIP tickets, I — and probably many other Swifties — will be watching your concert footage on TikTok after the show.
This article was originally published on