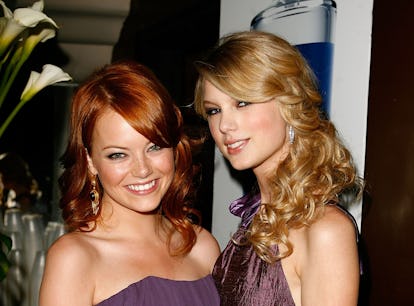 Emma Stone Was Not All Too Well At Taylor's Eras Show
She's a "You Belong With Me" kind of girl.
Jeff Vespa/WireImage/Getty Images
Emma Stone is proudly wielding her Swiftie stan card. On March 17, Taylor Swift kicked off her Eras Tour in Arizona, performing a three-hour set filled with hits that left her fans in a lavender haze. Even the city of Glendale (where she performed) became a self-proclaimed stan by temporarily changing its name to Swift City; however, that nickname doesn't come close to Stone's enthusiasm over the "Bejeweled" singer. Like many attendees, the Cruella actor appeared at the Friday night show and was seen living her best Swiftie life.
ICYMI, a fan posted a TikTok of Stone jamming out to "You Belong With Me" in the audience. Titled "Emma Stone losing her gd mind over YBWM," the actor (who's wearing a black top) can be seen pumping her first and screaming the song's chorus as though she were a paid background singer on stage. She appeared to be in a more secluded section of the venue, and enjoyed every second of her experience. Honestly, her energy is reminiscent of that one fan having her main character moment to Katy Perry's "Firework." Some timeless bops can have that effect.
That wasn't the only time Stone sang her heart out. In a separate video, the Easy A actor also grooved to Swift's 2008 hit, "Fearless." Still riding a high wave of energy as the last clip, Stone can be seen dancing to the song's beat, before seemingly turning to another attendee and singing the lyrics to them. In a third video, Stone swapped her enthusiastic jumping for some slow swaying while singing along to "Love Story." To make this moment even more golden, Paramore's Hayley Williams — who performed as an opener during Swift's second Glendale show — can also be seen enjoying Swift's set.
The first two clips went viral on Twitter, with many stans noting how relatable Stone's reactions were to Swift's older discography. Her aura in these videos is absolutely infectious, and shows that Stone's no stranger to the Swiftiverse. IYDK, Swift and Stone were first spotted as friends at Hollywood Life's Young Hollywood Awards in 2008. Their friendship ultimately blossomed, so much so the actor brought Swift with her as a date to the premiere of her 2010 cult-classic, Easy A.
That same year, Stone revealed to MTV that she became close with the Midnights singer after emailing her. Obvs, shooting your bestie shot will never go out of style. "She's so great," Stone said at the time. "People are seeing it more now, and she's so funny and she's exactly who you think she is, and I love that."
At this point, I need to see Stone fangirling at every single show.