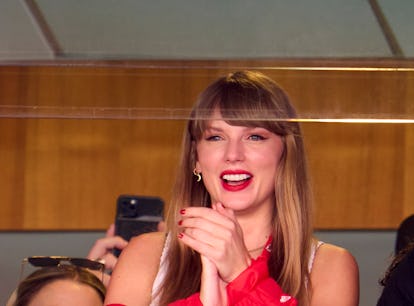 Swifties Celebrate "Taylor Independence Day" As She Stops Dating British Guys
Cooper Neill/Getty Images Sport/Getty Images
It may be September, but for Swifties, it's the Fourth of July. And the reason for the sudden patriotism is the fireworks that Taylor Swift set off while attending Travis Kelce's Kansas City Chiefs game on Sept. 24. The rowdy football game, which ended with Swift and Kelce driving off together, appeared to confirm all the dating rumors between the two. As Swifties know all too well, Kelce isn't exactly the type guy Swift has typically gone for, so fans dubbed the hyper-American outing as "Taylor Independence Day," joking that Swift had finally moved on from dating British guys.
About two weeks after reports that Swift and Kelce were casually seeing each other, the rumor mill was sent into overdrive as Swift sat next to Kelce's mom to cheer the tight end on at Arrowhead Stadium. After the game, Swift was spotted leaving the stadium with Kelce, and driving off together in his car. Naturally, social media exploded with fans buzzing about the possible new relationship, and one joke quickly became the most prominent. In light of Swift seemingly romancing an American man after a decade-long streak of exclusively dating men from the U.K., Swifties celebrated their own version of the American Revolution.
"Taylor Swift dating an American footballer is literally like the declaration of independence. free from the shackles of British colonialism! This is the moment," one fan wrote. "Taylor's first relationship in like 10 years with an american like omfg this is literally our fourth of july throw the tea in the harbor," another Swiftie added. "Happy official taylor independence day. last british colony to be freed from beans on toast land," one fan account tweeted.
The jokes are sprung from a notable pattern in Swift's recent dating history. Ever since she was first linked to British singer Harry Styles back in 2012, Swift's taste in men has been decidedly European. After Styles, Swift dated Scottish DJ Calvin Harris from 2015 to 2016, followed by a brief fling with English actor Tom Hiddleston, and then a seven-year relationship with Joe Alwyn, who is also English. She broke up with Alwyn earlier in 2023, and then dated British singer Matty Healy for about a month in the summer. Swift has even written about her love of British men in her Lover track "London Boy."
But now, it seems she's embracing her Miss Americana era, and Swifties are heralding her relationship with Kelce as being the second coming of the American Revolution. "Telling my kids this was THE american revolution," one fan wrote over a collage of Swift at the Chiefs game. "Today will mark the official american revolution for swiftie nation," another Swiftie declared. "The brits are OVER."