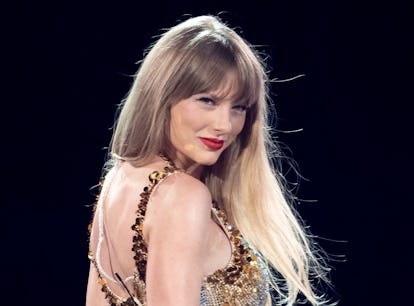 A Full Debrief On Taylor Swift's Dating History
Sans the sexist narrative.
SUZANNE CORDEIRO/AFP/Getty Images
Taylor Swift has gotten a lot — like, a lot — of attention for her dating life, and much of it has painted her in an unfairly negative light. Now that her and Joe Alwyn's six-year relationship is reportedly over, the conversation surrounding her dating history is back in the headlines — and potentially just as problematic.
Swift has openly spoken out against narratives claiming she dates a lot of people. After Netflix's Ginny & Georgia made a quip at her expense ("What do you care? You go through men faster than Taylor Swift"), the singer commented on the sitch. "Hey Ginny & Georgia, 2010 called and it wants its lazy, deeply sexist joke back," she tweeted in March 2021. "How about we stop degrading hard working women by defining this horse sh*t as FuNnY." She's got a point.
So, to clear up the rumors — and the idea that Swift has a "long list of ex-lovers" — let's break down her actual dating history (starting with her most recent 'ship), sans the exaggerations.
Joe Alwyn
After meeting at the Met Gala in 2016, Swift and Alwyn dated for six years before reportedly breaking up in April 2023. Throughout the course of their relationship, the couple kept a pretty low profile, though they did write a few songs together on Swift's albums Folklore, Evermore, and Midnights. They reportedly called it quits because Alwyn "struggled" with Swift's fame. A source told People, "The differences in their personalities have also become harder to ignore after years together. They've grown apart."
Tom Hiddleston
Swift dated Hiddleston for a couple of months in 2016. (They attended the Met Gala together that May.) Hiddleston was famously spotted at Swift's 2016 Fourth of July party, sporting an "I love T.S." shirt. So, it looked pretty serious, even if it was short-lived.
Calvin Harris
Swift and Harris were together for 15 months. Following their breakup in June 2016, there was some drama when Swift took credit for helping write "This Is What You Came For," Harris' song featuring Rihanna. On Twitter, Harris lashed out at Swift. "I wrote the music, produced the song, arranged it and cut the vocals though. And initially she wanted it kept secret, hence the pseudonym. Hurtful to me at this point that her and her team would go so far out of their way to try and make ME look bad at this stage though," he wrote. Later, he tweeted, "I figure if you're happy in your new relationship you should focus on that instead of trying to tear your ex bf down for something to do. I know you're off tour and you need someone new to try and bury like Katy [Perry] ETC but I'm not that guy, sorry. I won't allow it."
Harry Styles
Styles and Swift dated from October 2012 to January 2013, and to this day, fans of the duo call themselves "children of divorce." The relationship gave Swifties plenty of 1989 gems like "Style" and "Out Of The Woods." Although there was some drama post-breakup, like Swift mocking Styles' British accent during her 2013 Grammys performance of "We Are Never Getting Back Together," they've reconciled since then. At the 2023 Grammys, the duo was spotted hugging.
Conor Kennedy
Kennedy and Swift's relationship didn't last long, but they were seriously sweet together. The couple dated for a few months in 2012, but went their separate ways because of "distance," per an Us Weekly source.
Jake Gyllenhaal
Swift dated Gyllenhaal for a few months in 2010 and 2011. While neither confirmed the romance, the song "All Too Well" is believed to be inspired by Gyllenhaal. In it, Swift does not hold back: "You said if we had been closer in age maybe it would have been fine / And that made me want to die." (Gyllenhaal is nine years older than Swift.)
John Mayer
The duo was first linked in 2009, after collaborating on Mayer's song "Half Of My Heart." (At the time, Swift was 19 and Mayer was 32.) In 2010, Swift released her song "Dear John," which everyone (including Mayer) thinks is about this relationship. Back in 2012, Mayer complained about the song to Rolling Stone, explaining that he was "really humiliated" by it. "I will say as a songwriter that I think it's kind of cheap songwriting... I think it's abusing your talent to rub your hands together and go, 'Wait till he gets a load of this!' That's bullsh*t," he said. (Swifties think "Would've, Could've, Should've" is also about this romance, since she referenced being 19 in the lyrics.)
Taylor Lautner
Swift and Lautner's relationship was an easy one to root for. The duo dated in 2009, and Swift dedicated her song "Back to December" to him. In 2016, while promoting Scream Queens, Lautner fielded some questions about Swift. "It was a good time. It was a fun few months there," he said. Later, when asked if she wrote a song about him, he told co-stars Lea Michelle and John Stamos, "That's what she does. She writes songs... It's called 'Back to December.'"
Lucas Till
Swift and Till dated briefly in 2009 after he starred in her "You Belong With Me" music video. Following their breakup, Till told MTV, "We dated for a little bit. But, there was no friction because we were too nice... We just really both liked each other… [but] most relationships work out cause you get along and then you don't, and then you make up and it's passionate, and with us I really just liked her as a friend. That's the only reason that didn't work out."
Joe Jonas
Swift's first public relationship was with Jonas in 2008. It famously ended when Jonas broke up with Swift over a 27-second phone call. Though they ultimately might not have been the best match, Swift was inspired by their romance to write "Forever & Always" and "Mr. Perfectly Fine." And 15 years later, Swift and Jonas appear to be friends — she even seemingly sent him and Sophie Turner a baby gift in 2020.
This article was originally published on