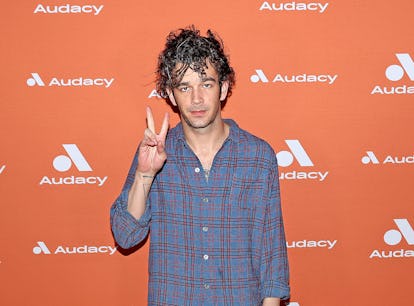 Sooo, Matty Healy Showed Up At Taylor's Latest Eras Tour Show Amid Dating Rumors
John Parra/Getty Images Entertainment/Getty Images
All eyes were on one audience member at Taylor Swift's first Eras Tour concert in Nashville. While the pop star was slaying on stage, superfans caught The 1975 frontman Matty Healy watching the show from the crowd. Normally, a celeb spotting at an Eras show isn't all that surprising, but this was a special case. A photo of Healy at Swift's Eras Tour concert instantly went viral due to the recent dating rumors swirling around the two music stars.
Swift's May 5 concert was a full-on spiral for Swifties. Not only did she announce Speak Now (Taylor's Version) would be releasing in a couple months, but Healy's appearance in the audience threw a gallon of gasoline on the wildfire of rumors that he and Swift have begun dating. The dating speculation started on May 3, when The Sun reported that the pair are "madly in love." The unnamed source clarified that the new relationship had no overlap with Swift's time with her ex Joe Alwyn, and claimed that the new lovebirds would be going public during Swift's Nashville shows.
While Healy and Swift weren't spotted together at the concert, his mere appearance at the show was more than enough to cause Swifties to give more credence to the dating rumor.
And another eyebrow-raising moment at the concert made the rumored relationship seem more real than ever. While Swift was singing "Cardigan," she appeared to mouth a loving message to the crowd: "This one is about you. You know who you are. I love you." Since every Swift superfan is also a highly trained detective, it didn't take long for the fandom to realize Healy mouthed the exact same message during The 1975's concert two days earlier.
Healy and Swift actually have a long history together, and have fielded dating rumors before. There was first speculation about the two back in 2014 when Swift met Healy after attending a The 1975 concert. However, Healy shut down the chatter right away: "We met each other, we exchanged numbers in the same way that a lot of people in this kind of world do," he said in 2015. "There's no relationship or anything happening."
While there was no romance, the two remained very close throughout the years, both forming strong creative partnerships with producer Jack Antonoff. In 2022, Healy worked with Swift on some songs for her album Midnights, and Swift later showed up onstage at a The 1975 concert to live-debut her single "Anti-Hero."
Could the longtime friends have finally found the right time to see what they'd be like as something more? You can bet the Swifties will be paying close attention to the upcoming Eras shows to see if there are any more hints about this dating rumor.