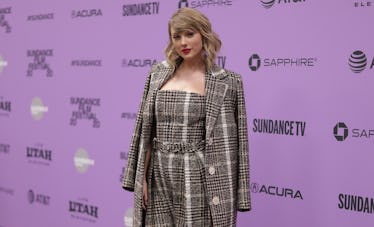 Taylor Swift Called Out 'Ginny & Georgia' For The Show's Sexist Joke About Her
Neilson Barnard/Getty Images Entertainment/Getty Images
Taylor Swift is not a fan of a joke about her in Netflix's new series Ginny & Georgia. Shortly after the new dramedy premiered on Feb. 24, Swift's fans called out a certain line in the series as degrading to the pop star. Soon after, the singer herself weighed in, and Taylor Swift's tweet about Ginny & Georgia didn't hold back, calling the comment about her dating history a "lazy, deeply sexist joke."
The line in question comes at the end of Ginny & Georgia's first season. The series centers on 30-year-old mother Georgia (Brianne Howey), who moves to a fictional New England town called Wellsbury with her son, Austin, and teenage daughter, Ginny (Antonia Gentry). After witnessing the tumultuous ups and downs of her mother's romantic life, Ginny threw out a scathing insult at her in the show's final episode. During a heated argument after Georgia found out about Ginny's recent breakup, Ginny yelled, "What do you care? You go through men faster than Taylor Swift." The pop-culture reference may be a hallmark of the series' writing — the episode the line appears in is called "The Worst Betrayal Since Jordyn and Kylie" — but it did not sit well with Swift's stans.
This type of joke about Swift's highly publicized romances was pretty ubiquitous throughout her early career, and she has spoken out about her distaste for these jokes in the past. Knowing this, Swift's fanbase got "RESPECT TAYLOR SWIFT" to become a trending topic on Twitter after learning of this Ginny & Georgia joke. On Monday, March 1, Swift herself weighed in on the line, calling it "horse sh*t" and saying it degrades hard-working women.
Swift went on to call out Netflix for allowing the joke, pointing out that the streamer is home to her extremely popular 2020 documentary Miss Americana.
The standom-inspired social media backlash to a new coming-of-age series mirrors a similar situation that occurred with Selena Gomez fans and Peacock's Saved by the Bell reboot when that series premiered at the end of 2020. One episode of that show centered on the high schoolers having their phones taken away, resulting in melodramatic breakdowns. Struggling to remember celebrity facts without their devices, two background characters argued over who Gomez's kidney donor was, and later graffiti in the school hallway read "Does Selena Gomez even have a kidney?" Fans thought the show was mocking Gomez's 2017 kidney transplant surgery and trended "RESPECT SELENA GOMEZ" on Twitter in response, resulting in the scenes being removed from the episode.
Neither Netflix nor the Ginny & Georgia team has responded to the criticism over the joke yet, but given Swift's massive following, it's likely *something* will happen now that she's tweeted about it.