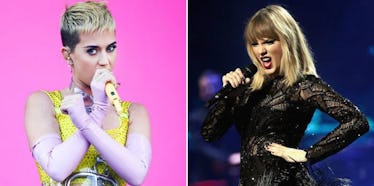 All The Times Taylor Swift Threw Shade Like A Pro, And Not Just At Katy Perry
Rich Fury/Getty Images/Kevin Winter/Getty Images for DIRECTV
Taylor Swift is not afraid of the drama. She's been publicly shaming her enemies and taking on giants of the music industry for more than a decade. She often wins, and her shade beams can be lethal.
Take this week's incident with Katy Perry. The two have been at war for a while and Swift has claimed a guerrilla victory in their most recent face-off.
She dropped her entire discography on Spotify the very same day Perry released her latest album, Witness. Although it may not be lethal for Perry, Swift's throwbacks are currently outperforming Witness, which has got to sting. Shade successfully thrown.
The Perry/Swift feud has been highly publicized and dissected, but Perry is by no means the only one who has been the target of Swift's razor-sharp shade daggers.
From boyfriends to fans, on stages and on MySpace, it's been a pretty wild ride – here are some highlights.
When she shaded Joe Jonas on MySpace (and a million other times).
Joe Jonas broke up with Taylor Swift on a 27-second phone call – an act he may never (ever) live down.
Swift mentioned it on Ellen in 2008 and again in her 2009 SNL musical monologue, where Swift referenced Jonas by name after singing, "I like writing songs about douchebags who cheat on me … I like writing their names into songs so that they're ashamed to go in public."
But the very best time she called out Jonas was in a MySpace video (because yes, Taylor Swift, has been famous long enough to have had a relevant presence on MySpace) where she held up a Joe Jonas doll and commented, "See, this one even comes with a phone so he can break up with other dolls." Nice.
When she got her "Revenge" on Camilla Belle.
Speaking of Joe Jonas, Swift allegedly wrote the biting "Better Than Revenge" off her 2010 album, Speak Now, about Camilla Belle – the actress who was rumored to have stolen Jonas from her "faster than you can say 'sabotage.'"
Swift wrote, "She's better known for the things that she does on the mattress, whoa."
Slut-shaming? Yeah. Shade throwing? For sure.
But this is Taylor, after all, and she wants us to know she always gets the last word.
When she shaded Harry Styles at the VMAs… twice.
Swift and Harry Styles dated from December 2012 to January 2013 and then broke up in the British Virgin Islands , which left us with this photo of Swift alone on a yacht looking sad...
...and this photo of Styles in Richard Branson's hot tub looking very happy.
When Taylor accepted her VMA for Female Video of the Year for "I Knew You Were Trouble" later that year, she grinned as she remarked, "I also want to thank the person who inspired this song, who knows exactly who he is."
The camera then panned to One Direction, to catch Harry staring at the ceiling and the rest of his bandmates chattering.
Later that night, when One Direction was presenting Best Pop Video, Swift turned to BFF Selena Gomez and seemed to mouth "shut the f*ck up" in a rare moment of off-brand profanity.
Though, to be fair, telling her exes to shut the f*ck up is quintessentially on-brand for Swift.
That's a lot of shade, and we haven't even mentioned all the compelling evidence that may prove she wrote a lot of 1989 about Styles. We don't have time to get into it, but just know that it includes a snowmobile accident, one -- or maybe two -- paper plane necklace(s), a fake British accent, James Dean, and a lot of references to dreamy green eyes. Well!
When she gave clues about several exes in liner notes.
Dedicated Swifties are well aware of Taylor's desire to give bits of herself and her songs away with clues and callouts. And what better way to hide these messages and up your CD sales than putting them in liner notes?
In the notes of her 2012 album, Red, certain letters are capitalized in the lyrics to "Everything Has Changed" to spell out "Hyannis Port" – famously the home of Swift's former fling Conor Kennedy.
The capitalized letters in her "All Too Well" lyrics spell out "Maple Latte" – an allusion to the drinks she and Jake Gyllenhaal allegedly enjoyed on one of their dates.
The liner notes for "Should've Said No" spell out "Sam, Sam, Sam, Sam, Sam, Sam" -- you know, because she reportedly had a boyfriend in high school named Sam.
She does this for literally all of her songs. A full list of the secret messages can be found here.
When she had some choice words for Kanye.
At this point, we're familiar with the trend of Swift writing songs about people in her life without doing much to hide their identities (See: "Dear John" about John Mayer and "Hey Stephen" about a 2008 crush, Stephen Liles, for example).
Her career-altering encounter with Kanye West at the 2009 VMAs was no exception. She penned "Innocent" about the incident, saying "It's okay, life is a tough crowd, 32, and still growin' up now." Although, to be fair, the message of the song is pretty forgiving, so not exactly "shade."
The events of 2016 changed that, but it's honestly too much to re-hash here – researching the mythology of T. Swizzle is a bit like taking a wrong turn and falling down a rabbit hole, so to speak.
When she dissed Bieber, basically to his face.
Who didn't have beef with Justin Bieber in 2016?
In a true act of shading, when Bieber ended his performance at the 2016 iHeartRadio Music Awards, Swift dropped a two-clap drink sip and seemed to say very calmly, "Next."
It was a diss cold enough to remind everyone that Bieber might be big, but Swift is still bigger.
And like Bieber, Swift is one of those stars whose myth seems to be never-ending. Her brand has been masterfully crafted into legend and her social web has been spun to tangle up half of young Hollywood.
So, whether you like her or not -- or respect her many acts of shade throwing or not -- she's the kind of star that's gonna stick around forever. And probably keep throwing shade the whole time.