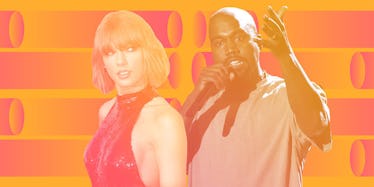 We Wrote Out Every Word Taylor Swift And Kanye Said During Their 'Famous' Call
REUTERS
Yeah, good luck getting any work done today with all this Taylor Swift and Kanye West prime beef exploding.
In case you've somehow missed the World Wide Web blowing up, the whole 'Famous' feud finally came to a head Sunday night when Kim Kardashian went all rogue and released the entire phone call in a series of Snapchat videos.
It basically confirms she's a massive liar and everyone in the T-Swift camp is currently weeping gently into a pillow over the shattered remains of her character.
The phone convo between the two is a bit all over the place because it was revealed in loads of short Snaps, but we've written out the entire thing so you can lust over this gossip in all its glory.
Ready? Good. Then grab that popcorn and proceed.
Kanye: "Okay, dope. You still got the Nashville number?"
Taylor: "I still have the Nashville area code, but I had to change it."
Kanye: Reads the "Famous" lyric: "To all my southside niggas that know me best, I feel like me and Taylor might still have sex."
Taylor: "I'm like this close to overexposure."
Kanye: "Oh, well I think this a really cool thing to have."
Taylor: "I know, I mean it's like a compliment, kind of."
Kanye: "All I give a fuck about is just you as a person and as a friend, I want things that make you feel good. "
Taylor: "That's sweet."
Kanye: I don't want to do rap that makes people feel bad.
Taylor: I mean go with whatever line you think is better. It's obviously very tongue in cheek either way. And I really appreciate you telling me about it, that's really nice."
Kanye: "I just had a responsibility to you as a friend you know, and I mean thanks for being like so cool about it."
Taylor: "Aw thanks. I really appreciate it. Even asking or seeing if I would be okay with it and I just really appreciate it. Like I would never expect you to like tell me about a line in one of your songs. And then the flowers that you sent me, I like Instagrammed a picture of them and it's like the most Instagram likes I've ever gotten."
Kanye: "Relationships are more important than punch lines, ya know?"
Taylor: "I don't think anybody would listen to that and be like that's a real diss she must be crying. You've gotta tell the story the way that it happened to you and the way that you experienced it, like, you honestly didn't know who I was before that. It doesn't matter that I sold seven million of that album before you did that which is what happened, you didn't know who I was before that. It's fine. I might be in debt, but I can make these things happen. I'm always going to respect you. I'm really glad that you have the respect to call me and tell me that as a friend about the song. It's like, really cool thing to do and a really good show of friendship so thank you."
Kanye: "Thank you, too."
Taylor: "If people ask me about it I think it would be great for me to be like, 'Look, he called me and told me the line before it came out. Jokes on you guys, we're fine'. You guys want to call this a feud, you want to call this throwing shade but right after the song comes out I'm going to be on a Grammys red carpet and they're going to ask me about it and I'll be like, 'He called me'. It's more provocative to say 'might still have sex'. It doesn't matter to me."
Say WUUUT.
See, we weren't lying. This shit is bananas.