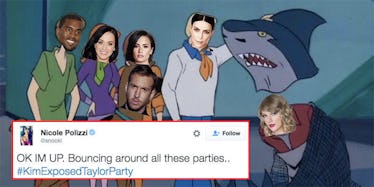 Twitter Literally Threw A Party After Kim K Leaked The Taylor Swift Video
Twitter
The fact that Taylor Swift and Kim Kardashian were trending, in itself, was predictable.
After all, Kim set social media on fire on Sunday night by posting a series of over 20 Snapchat videos that collectively captured a conversation between Taylor and Kanye West about the contents of his song, "Famous".
The fact that many people took the videos as justification to call Taylor a liar was predictable, too. Fans of both recording artists had been given ample reason to believe that Kanye had never informed Swift about the controversial lyrics of his song, and yet Kim produced evidence to the contrary.
What was surprising, though, was how intense of a celebration occurred on the internet. Twitter literally threw a virtual party with the hashtag, #KimExposedTaylorParty, and the tweets were out of this world.
Seemingly everyone had a seat at the party.
They were even refreshments.
Welcome to the #KimExposedTaylorParty. There's plenty of tea on the refreshments table over there in the shade. pic.twitter.com/Sm2xYV46PL — Summer Rae (@RealSummerWWE) July 18, 2016
For the first time in history, everyone was actually on Kim's side.
Which means it was a bad night for Taylor.
When Selena Gomez jumped in, things only got worse.
Which meant two parties at once.
Thing reached another level once Sports Twitter got involved.
Someone actually made it!!! #KimExposedTaylorParty pic.twitter.com/3r93QsKyPS — Juan Rodriguez (@Rocketfan2503) July 18, 2016
Kanye, Beyonce and Katy Perry were declared winners for the night.
People were even citing Bible verses.
But it was a verse from the book of Snapchat that summed the night up perfectly.
What a messy party.