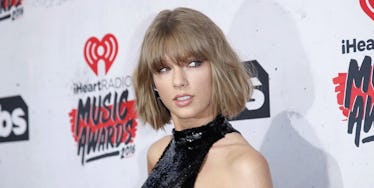 Taylor Swift Definitely Threw Shade At Justin Bieber At The iHeartRadio Awards
Danny Moloshok/Reuters
"Next."- Taylor Swift.
The iHeartRadio Music Awards -- which, if you're unfamiliar, is the younger nephew of the Grammys -- was on Sunday night, and I guess you could argue Adele winning Song of the Year and Jason Derulo's performance were pretty big deals.
As far as I'm concerned, though, Taylor Swift letting us all know she is just as tired of Justin Bieber's sh*t as the rest of us was the highlight of my night... maybe even my year.
The subtle shade got thrown after Biebs' performance, and it was glorious.
I love this soooo much. There is nothing more bare-minimum than a soft two-clap and a drink from her cup. It's a complete power-play. This is Gordon Gekko-level sh*t.
In case you're wondering, no, Taylor and Justin have no real actual connection to each other. The best we've been able to come up with is Taylor has a negative opinion of Bieber because he's Selena Gomez's weird ex.
That, or, like the rest of us, she could just not like anything about him.
You try liking a man who decided to start wearing dreadlocks in 2016.
Citations: Taylor Swift Throws Some Shade After Justin Biebers iHeartRadio Music Awards Performance (ET)