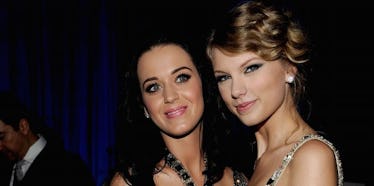 The Ultimate Timeline Of Katy Perry And Taylor Swift's Epic Feud
Getty Images
If you even halfway pay attention to the world of entertainment, you know Katy Perry and Taylor Swift are serious enemies.
You also might remember that wasn't always the case. In fact, they appeared to be BFFs at one point.
Most of the information regarding the pop stars' fight has come from innuendos, dissected song lyrics, and subtle shade-throwing tweets, though, until now.
This week, on her segment of Carpool Karaoke with James Corden, Katy Perry straight-up confirmed her feud with Taylor Swift, and actually went into quite a lot of detail about her side of things.
First, though, she clarified,
Honestly, it's really like she started it. And it's time for her to finish it.
For those of you whose memory isn't what it used to be, let's back up a bit to the early days of Taylor Swift and Katy Perry's relationship so we can see when exactly it all started to go wrong, and when, according to Perry, Swift "started it."
"It used to be mad love."
From 2008 to 2011 Perry and Swift were basically #friendshipgoals. Here they are above at the 2010 Grammy Awards, happily chatting away.
"It's so sad to think about the good times."
In 2010, Perry took the stage with Swift during her Fearless tour to perform "Hot N'Cold."
"You and I."
When they weren't hanging out in person and posing for pics, they were sending each other super friendly tweets.
"I was thinking that you could be trusted."
They seemingly didn't let competition get in the way of their friendship, either.
When Swift won Artist of the Year at the 2011 American Music Awards over Perry, they embraced in a hug. It sure looks like Perry was happy for her -- or at least disguising it really well.
"Now, did you think it all through?"
It started to get a bit more complicated starting in 2012. First, Swift briefly dated John Mayer, who later went on to date Perry.
However, it seemed at least like Perry and Swift weren't going to let that come between them. Here they are at the Grammys in 2013, and it seems like all is well -- or at the very least, cordial.
"All these things will catch up to you."
In a 2014 interview with Billboard ahead of the release of 1989, Taylor Swift ignited the feud rumors by confirming "Bad Blood" was about a fellow pop star.
Although she didn't name names, she said,
For years, I was never sure if we were friends or not... She would come up to me at awards shows and say something and walk away, and I would think, 'Are we friends, or did she just give me the harshest insult of my life?'... She did something so horrible. I was like, 'Oh, we're just straight-up enemies.' And it wasn't even about a guy! It had to do with business. She basically tried to sabotage an entire arena tour. She tried to hire a bunch of people out from under me. And I'm surprisingly non-confrontational – you would not believe how much I hate conflict. So now I have to avoid her. It's awkward, and I don't like it.
"And time can heal, but this won't."
Perry tweeted the above shortly after the interview, and the internet collectively decided "Bad Blood" was specifically directed toward her.
"Cause baby, now we've got bad blood."
Literally. In May 2015, we finally got the video. Which speaks for itself.
"So take a look what you've done."
After the video, things were never the same.
In the summer of 2015, Swift got herself into a bit of a Twitter fight with Nicki Minaj over the VMA nominations, and while those two were able to talk it out and supposedly patch things up, Perry took the chance to swoop in and throw major fuel to the already burning feud fire with a tweet that we all assumed was directed at Swift.
"Band-aids don't fix bullet holes."
While on her 1989 tour, Swift had a surprise one night on stage from "left shark," which is clearly a dig at Perry, who performed at the Super Bowl where "left shark" became a viral sensation.
"If you live like that, you live with ghosts."
Swift, while still refusing to say "Bad Blood" was written about Perry, continued to answer questions that did nothing to stop the rumors. In an October 2015 interview with GQ, she explained,
You're in a Rolling Stone interview, and the writer says, 'Who is that song about? That sounds like a really intense moment from your life.' And you sit there, and you know you're on good terms with your ex-boyfriend, and you don't want him—or his family—to think you're firing shots at him. So you say, 'That was about losing a friend.' And that's basically all you say. But then people cryptically tweet about what you meant. I never said anything that would point a finger in the specific direction of one specific person, and I can sleep at night knowing that. I knew the song would be assigned to a person, and the easiest mark was someone who I didn't want to be labeled with this song. It was not a song about heartbreak. It was about the loss of friendship.
"You say sorry just because."
In September 2016, Perry said she would collaborate with Swift -- but she wants an apology.
"So if you come in my way, just don't."
Here we are in 2017 and Katy Perry is set to release her highly anticipated album on June 9. Fans are already convinced that one of the tracks, "Swish Swish," is Perry's response to "Bad Blood." The lyrics read,
Don't you come for me No, not today You're calculated I got your number 'Cause you're a joker And I'm a court side killer queen
Although Perry called the song "a liberation from all the negative that doesn't serve you," we now know a lot more about some of that "negative" as it relates to Swift.
Perry detailed for James Corden her side of how the fight started, explaining it involved some backup dancers who had asked if they could join Swift's tour -- which Perry agreed to. Things apparently got messy, though, when they wanted to return to Perry and Swift ended up firing them.
At least the two singers seem to agree this fight is about backup dancers. That's something.
Still, a lot has been said the past few years, and I'm not going to hold my breath for a collaboration anytime soon.
Your move, Taylor.