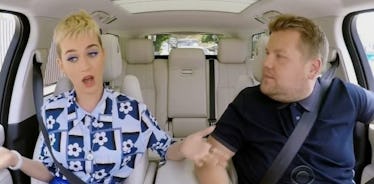 Katy Perry Calls Out Taylor Swift In 'Carpool Karaoke': "She Started It" – VIDEO
CBS
If you're like me and think everything is a conspiracy and most news about celebrities is actually a PR stunt -- like the Taylor Swift and Katy Perry feud, for example -- think again.
Katy Perry sets the record very, very, very straight in her Carpool Karaoke episode with host James Corden, and gives us sort of an insane amount of detail about what really went down between her and T-Swift.
The number one thing she wants to make clear? There is a cause and effect to everything, and do. not. come for her.
James opens up the convo by asking about the "Taylor beef," which is like an open flood gate for Katy.
She said, "Honestly, it's really like she started it. And it's time for her to finish it."
From there, they get into the nitty-freaking-gritty.
Katy explains she had a few, close backup dancers who asked her if they could go on tour with Taylor Swift during the off-season for Katy.
Katy says she thought that was no problem, but wanted to ensure their contracts would allow them to come back to her in a year or so.
After lots of industry talk, the backup dancers were ultimately fired by Taylor Swift when they tried to leave and rejoin Katy.
Katy then said Taylor created "Bad Blood" in response. She explained, "...She writes a song about me, and I'm like, OK, cool, cool, cool, that's how you want to deal with it? Karma!"
But trust her, she can move on if Taylor can. When pushed by Corden to see what would end it, Katy confirms even just a text from Taylor calling "truce" would be enough.
But what I want to say is that I'm ready for that BS to be done. Now, there is the law of cause and effect. You do something, there's going to be a reaction, and trust me, daddy, there's going to be a reaction. It's all about karma, right? I think personally that women together, not divided, and none of this petty bulls–t, women together will heal the world.
Sing it, literally, sister. You can watch the full video here.
Citations: Katy Perry Carpool Karaoke (Entertainment.ie)