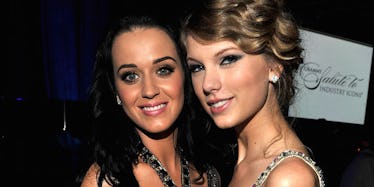 Katy Perry Dropped New Album And Fans Think Taylor Swift's Response Is So, So Petty
Kevin Mazur/Getty Images
Katy Perry's newest album, Witness, dropped last night at midnight and fans are already loving it.
The album features 15 songs, including the previously released "Chained To The Rhythm," "Bon Appétit," and "Swish Swish." The album as a whole is definitely a new sound for the singer, with songs — as she promised — that are more about emotional connection and politics than anything else.
The titular song, "Witness," is begging to be remixed and played everywhere. I'm really into it.
Fans have taken to Twitter to praise the new album, which hit number one on iTunes just 10 minutes after its release.
But something else happened last night... and we need to talk about it.
Taylor Swift — after talking sh*t about Spotify for a good three years in protest of the fact that they don't pay artists enough — decided to re-release her entire discography on Spotify at the same exact time Witness dropped.
HOW PETTY CAN YOU BE, TAYLOR?
Katy Perry has had this release date for Witness set for a year and did promotions with Spotify for it, and Taylor Swift comes back to Spotify on the same exact night.
*Writes songs complaining about having bad blood with someone* *Creates all of the bad blood*
I'm not the only one who thinks this move was petty as hell.
Twitter has been calling Taylor petty for the move she pulled.
AND ARE THEY WRONG?
This Taylor Swift and Katy Perry beef has been going on for five years and it needs to end. Just a couple of weeks ago, Katy appeared on James Corden's Carpool Karaoke, where he asked her about the infamous beef.
She said, "Honestly, it's really like she started it. And it's time for her to finish it." Then, in an interview with British magazine NME released today, Katy addressed what she said to Corden. She said,
Well, James Corden makes me and the whole world feel very safe. No one has asked me about my side of the story, and there are three sides of every story: one, two, and the truth.
She continued,
I mean, I'm not Buddha — things irritate me. I wish that I could turn the other cheek every single time, but I'm also not a pushover, you know? Especially when someone tries to assassinate my character with little girls [her fans]. That's so messed up!
So let's just review: Katy Perry and Taylor Swift have had this beef for five years. Katy repeatedly says in public settings that she's willing to hash things out and resolve the bad blood. Taylor Swift basically goes, "Nah, Imma be petty and release all of my music on Spotify the day your album comes out."
Think what you want about Taylor Swift, but I'll be spending the rest of the day playing Witness on repeat.