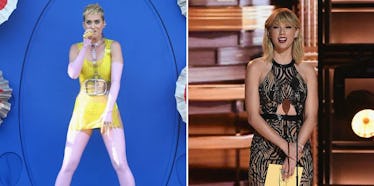 This Lyric In Katy Perry's "Swish Swish" May Prove It's About Taylor Swift
Getty Images
Katy Perry keeps those hits coming... and this time, she's packing heat.
Perry dropped her newest track "Swish Swish" featuring Nicki Minaj on Friday morning and it's a certified banger.
Immediately after the drop, fans started speculating the song is actually a diss track aimed at Taylor Swift.
The song starts with Perry singing,
A tiger Don't lose no sleep Don't need opinions From a selfish or a sheep Don't you come for me
OK. This sounds familiar. Let's think about it.
Fans will remember Perry sat down with Entertainment Weekly just a week and a half ago and opened up about her feud with Taylor Swift. She noted,
I think [my new album is] a very empowered record. There is no one thing that's calling out any one person. One thing to note is: You can't mistake kindness for weakness and don't come for me.
That last sentence just ONE MORE TIME,
Don't come for me.
Hmmmm. Interesting! Elite Daily reached out to both Katy Perry's and Taylor Swift's teams for comment but did not hear back at the time of publication.
There's also a telling detail in the art of Perry's "Swish Swish" video on Vevo.
The art appears to show a hand holding a receipt for 99 cents from Karma Coffee & Tea. *sips tea*
Also in this interview, Perry admits that there is no song about any one person. So, it all could essentially mean nothing -- you never know.
Taylor Swift's squad is coming her defense in response to the new track as well.
Ruby Rose took to Twitter to send out some savage comments to Perry. Perry's new album is called Witness, which is what the second half of that tweet seems to be alluding to.
Rose was clear to point out the hate wasn't directed at Nicki Minaj, though.
She also called Perry out for seemingly abandoning her "political activist" agenda.
Taylor Swift's fans weren't happy with the song either. They took to Twitter to defend the "Bad Blood" singer.
Wondering if Perry or Swift will have a response to the latest in their feud? Only time will tell.
Citations: Katy Perry and Nicki Minaj Take Shots at Rivals in Killer Collab "Swish Swish" (Cosmopolitan)