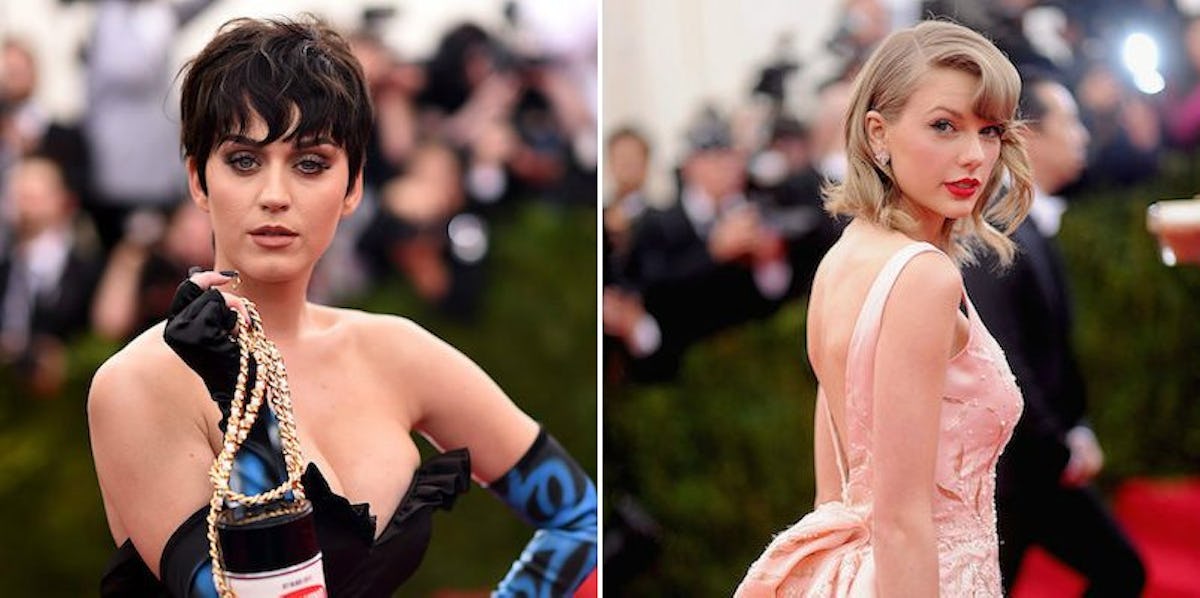 Katy Perry Responds To Feud With Taylor Swift: 'Don't Come For Me'
Getty Images
Katy Perry understandably needed a break after her Prismatic World Tour, but girl, it has been four long years since her last album "Prism" came out and she is finally back.
Perry tells Entertainment Weekly that she wrote nearly 40 songs that she then paired down to the 15, which made her latest album. No title has been released yet, but people are guessing maybe the name "Witness," based on her Met Gala outfit this past week.
"It's really quite brave," she said of the album. "Sonically, it's fun and dance-y and dark and light. It's all of these things. It definitely is a change."
More than anything, Perry says it reflects some of the growth and maturity she has gone through in leaving her 20s and entering her 30s. For one thing, she is sober. For another, she is working on her relationships.
I've healed some of my issues with my family, with my relationships. Today I'm sober but I don't know about tomorrow! One day at a time, right? It's all kind of beautiful.
Ok, but what about infamous frenemy, Taylor Swift?
There is heavy speculation that T-Swift's hit "Bad Blood" is a direct fire at Katy Perry, after rumors circulated about Perry "sabotaging" Swift's tour.
When asked if this album is in response to that, Katy said,
Well that's not my question to answer — if it's about me. I think [my new album is] a very empowered record. There is no one thing that's calling out any one person. One thing to note is: You can't mistake kindness for weakness and don't come for me. Anyone. Anyone. Anyone. Anyone. And that's not to any one person and don't quote me that it is, because it's not. It's not about that. Honestly, when women come together and they decide to unite, this world is going to be a better place. Period end of story. But, let me say this: Everything has a reaction or a consequence so don't forget about that, okay, honey. We got to keep it real, honey.
Perry, honey, you got it. Welcome back.
Listen to Katy's single "Bon Appétit" below, and keep your eyes peeled for more album deets!
Citations: Katy Perry talks 'brave' new album and if there's a response to 'Bad Blood' (Entertainment Weekly)