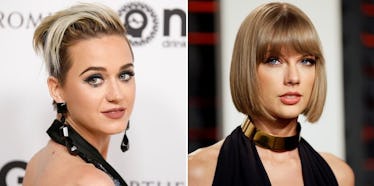 Katy Perry Might've Low-Key Called Out Taylor Swift In Her Latest Interview
REUTERS
Will the everlasting silent feud between Katy Perry and Taylor Swift ever end?
Time will certainly tell, but if I had to guess, I'd say not anytime soon. The last time Katy Perry took a clear jab at the 27-year-old "Shake It Off" singer, she was at one of Kanye West's Saint Pablo tour shows.
Back in October, Perry filmed herself dancing along to Kanye's controversial hit "Famous." Not only was she dancing, but she was also coincidentally singing along to the part where he raps, "I made that bitch famous," referring to Swift.
This time around, it appears Katy Perry could be taking yet another jab at T. Swift, but it's a little less obvious. As you probably already know, Taylor has been one of the most silent celebrities when it comes to using her political voice.
With the recent elections having come and gone, the only time we heard a peep from her about politics was when she shared a photo on Instagram of her waiting in line to vote on Election Day.
During a new interview with Vogue, Katy Perry seemingly calls out celebs like Swift who choose to stay silent about politics when she says they should be exercising outspokenness the most.
The 32-year-old "Chained To The Rhythm" singer said,
I don't think you have to shout it from the rooftops, but I think you have to stand for something. And if you're not standing for anything, you're really just serving yourself, period, end of story.
Hey, she said it, not me, but that looks and sounds like a jab with a side of shade.
The star even went on to say she's evolved as a person since her "California Gurls" days, hinting she wasn't always as vocal as she is now.
She then concluded that she's not going to keep mum about issues important to her anymore and neither should anyone else.
'California Gurls' and fluffy stuff would be completely inauthentic to who I am now and what I've learned. I do believe we need a little escapism, but I think that it can't all be that. If you have a voice, you have a responsibility to use it now more than ever.
Despite Katy's firm stance on stars using their platforms to offer their take on current events in such a divisive political climate, other stars think celebs like Swift have every right to their tight-lipped approach.
In February, Lena Dunham came to Swift's defense regarding her political silence, saying,
I just think everyone has to do it their way. When I was lesser known, I was like, 'Who could not share their opinion?' Then I found out that when you talk about politics, people straight-up tweet you the floor plan of your house and say they're coming to your house. You have to fucking watch it because people are nuts.
While Dunham makes a valid point, KP just doesn't see it that way. As a matter of fact, Katy has been one of the most politically outspoken celebs since the very beginning of the presidential race.
I mean, the woman performed at the Democratic National Convention while her ex Orlando Bloom recorded it from the stands like a proud eighth-grade mom.
Not to mention, her Instagram feed was cluttered with photos of her wearing Hillary Clinton gear for months. She even vowed to "vote naked" just to inspire people to cast their ballots.
Taylor on the other hand? Well, that's just not her style. "Her style" is one that Katy isn't here for, evidently.
Citations: Katy Perry Slams Celebs Who Don't Have a Political Voice: 'I Think You Have to Stand for Something' (Us Weekly)