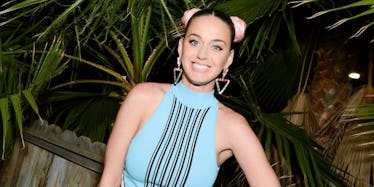 Katy Perry Recorded Herself At Kanye's Concert Dancing To Taylor Swift Lyric
REX/Shutterstock
It's true. Katy Perry knows ALL of the words to Kanye West's controversial song "Famous" just like the rest of us do.
The 32-year-old singer reignited speculation that she might STILL be feuding with Taylor Swift after filming herself singing along to Kanye's raunchy lyrics about Swift.
Katy Perry showed up to Kanye West's concert in Los Angeles with one goal in mind: record herself dancing around to Kanye saying, "I feel like me and Taylor might still have sex. Why? I made that bitch famous."
Here's the video. Is she shamelessly dissing Taylor Swift, or is she simply enjoying herself? You be the judge...
Katy recording herself during Kanye's Taylor lyrics pic.twitter.com/YRPexiW8BA — malek (@legendarymalek) October 26, 2016
While it might be pretty shocking to see Katy take a silent jab at Swift, it's important to remember that their beef dates all the way back to 2014 and even BEFORE then.
During a past interview with Rolling Stone, Swift hinted that "Bad Blood" was about Katy Perry. The story reads,
The angriest song on 1989 is called 'Bad Blood,' and it's about another female artist Swift declines to name.
Despite not naming which female artist Swift was referring to, she told the magazine,
For years, I was never sure if we were friends or not. She would come up to me at awards shows and say something and walk away, and I would think, 'Are we friends, or did she just give me the harshest insult of my life?'
Well, T. Swift, if you WERE talking about Katy Perry in "Bad Blood" this entire time, you might have a little more evidence to add to your case that she actually isn't your friend.
I mean, I don't know about you, but in the clip above, it's quite obvious that Katy's trying to send a message. It really isn't hard to see.
Watch closely. She's at a fucking Kanye West concert. Anyone who watched the 2009 VMAs or simply has a brain knows that Kanye is Taylor's archnemesis (next to Kim Kardashian).
Katy applies more pressure to the issue by filming herself dancing only to the controversial lyrics about Taylor before zooming in on her face when Kanye raps, "I made that bitch famous."
Look, all I'm saying is this: Taylor might be keeping her beef with Katy a secret... but Katy certainly isn't!
Citations: Katy Perry dances to Taylor Swift verse in Kanye West's 'Famous' (Entertainment Weekly)