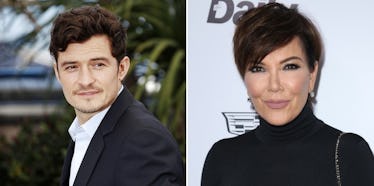 Move Over Kris Jenner, Orlando Bloom Had A Major Momager Moment At The DNC
REX/Shutterstock
When Katy Perry graced the stage at the Democratic National Convention in Philadelphia Thursday evening, there was one particular supporter in the crowd who stuck out the most.
No, it wasn't sleepy Bill Clinton.
The 31-year-old singer performed "Roar" and "Rise" in support of Hillary Clinton while one special spectator captured Katy's entire performance on camera like a proud mom at an eighth grade graduation.
Katy Perry's boyfriend Orlando Bloom, 39, gave Kardashian momager Kris Jenner a run for her money when he stood up at the Wells Fargo Center in awe, as his girlfriend performed her hit songs in a beautiful silver sequined dress.
The look on Bloom's face speaks volumes. He's never been so proud.
Bloom channeled his inner #ProudMama pose made famous by Kris Jenner.
Look familiar?
Can you blame him, though?! Katy Perry basically turned the DNC into one big party, expressed her political awareness and made it look REALLY easy.
Following Katy's epic performance, DJ and actress Mia Moretti joined Katy Perry and Orlando Bloom to voice her appreciation for her politically aware superstar friends.
Hey, Katy, we're all as proud of you as Orlando is -- he just knows how to express it better!
Citations: I'm with HER! Doting boyfriend Orlando Bloom videotapes Katy Perry as she performs at Democratic convention... while supporting her from audience (Daily Mail)