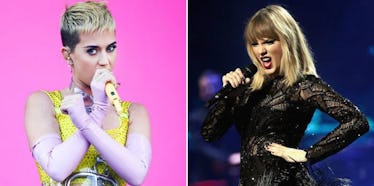 Katy Perry Shades Taylor Swift In Dramatic New Interview: "Things Irritate Me"
Rich Fury/Getty Images/Kevin Winter/Getty Images for DIRECTV
Katy Perry can't stop/won't stop talking about Taylor Swift.
For years, the two pop singers have thrown subtle shade at each other as fans speculated about the real reason behind their beef, but now it seems the subtlety is gone forever -- at least as far as Perry is concerned.
On a recent Carpool Karaoke segment with James Corden, Perry blessed the internet with a thorough explanation of why she's mad at Swift in the first place.
According to Perry, Swift started the feud. The details aren't all that exciting -- it's basically a fight over backup dancers -- but Perry wants Swift and everyone else to know she's not going to back down.
She said,
Honestly, it's really like she started it. And it's time for her to finish it.
Perry also said if Swift apologized or called a truce they could both move past this drama, but clearly that hasn't happened yet.
In fact, Perry threw even more shade at the 1989 singer in a new interview with British magazine NME.
Speaking on why she addressed the drama on Carpool Karaoke, Perry said,
Well, James Corden makes me and the whole world feel very safe. No one has asked me about my side of the story, and there are three sides of every story: one, two, and the truth.
Interesting. So we have your side now, but what's the truth, Katy?
Perry continued,
I mean, I'm not Buddha — things irritate me. I wish that I could turn the other cheek every single time, but I'm also not a pushover, you know? Especially when someone tries to assassinate my character with little girls [her fans]. That's so messed up!
In terms of assassinating Perry's character, Swift has never addressed the drama using names or confirmed "Bad Blood" is about Perry. If you piece all the clues together, though, Swift has insinuated quite a lot.
Back in 2014, Swift admitted "Bad Blood" was about another female pop star. She explained to Billboard,
She did something so horrible. I was like, 'Oh, we're just straight-up enemies.' And it wasn't even about a guy! It had to do with business. She basically tried to sabotage an entire arena tour. She tried to hire a bunch of people out from under me. And I'm surprisingly non-confrontational – you would not believe how much I hate conflict. So now I have to avoid her. It's awkward, and I don't like it.
If you think that's awkward, Taylor, I hope you don't read Perry's latest interview.
Perry also talked about being the bigger person when it came to another member of her inner circle, songwriter and producer Max Martin.
Martin co-wrote "Bad Blood" with Swift, which sounds super awkward to me, but Perry isn't throwing blame his way. Nope, she reserves all her anger for Swift, apparently.
She said,
I can't speak for [Max], but he didn't know [who Bad Blood was about]. I'm not supposed to tell him what he can and can't do. I'm very fair; I'm super-duper fair and I'm not one of those people who's like, 'You can't do that because I don't like that person'. Just, like, you do you, make your own choices... I'm not his mother.
It's getting more and more difficult to believe Swift won't respond to all this in some way, but for now she's staying quiet and hanging out with her new boyfriend, Joe Alwyn.
Perry's full interview with NME comes out June 9.