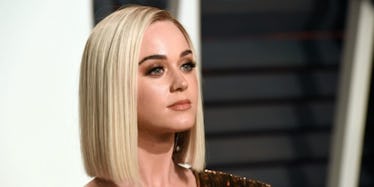 Katy Perry Dropped 'Bon Appétit' And The Lyrics Are As Sexual As 'I Kissed A Girl'
REX/Shutterstock
Katy Perry dropped her new single, "Bon Appétit," today, and it's literally the sexiest thing you'll hear all month.
NOT SINCE "I KISSED A GIRL" HAVE I HEARD A KATY PERRY SONG FILLED WITH SUCH SEX.
Well... if you find comparing your vagina and sex in general to eating a picnic, then yeah, it's totally sexy. But also kind of weird. Like, objectively pretty weird.
But whatever, Katy Perry's always been weird, and we've always loved it.
Perry's been posting about the single on Instagram all week in order to prepare for its release. The first post was a recipe for cherry pie.
Let's also note that today marks the nine-year anniversary of the release of Katy's first (TRULY ICONIC) single, "I Kissed A Girl."
And now she's talking about cherries again. Oh, Katy, you are nothing if not reliable.
The second was the trippy cover art posted yesterday.
And the last was this shot of Katy Perry turning on the ~sexii~ to announce the drop of the single.
OOF, DAMN, GIRL. But also, why are you surrounded by vegetables?
You can listen to the full song here:
Perry's last single was "Chained To The Rhythm"  — a song she used as a political statement against Trump and his administration. The video features a dystopian amusement park where everyone's too brainwashed to pay attention to reality.
Between "Chained To The Rhythm" and "Bon Appétit," it's obvious Katy Perry is really starting to change her sound, and I'm here for it.
Honestly, the beat for "Bon Appétit" sounds like it would be the elevator music 147 years in the future when all humans are forced to live in space because the planet died.
Hahahaha, just kidding, that's not going to happen!!! (Narrator: It will definitely happen.)
And the drop is objectively great. I see myself listening to this a lot this weekend. It's that kinda jam.
The song also features hip-hop group Migos, aka Quavo, Offset and Takeoff, and literally everything everyone says in this song is sexier than anything any man has ever said to me.
Seriously, just check out the chorus:
'Cause I'm all that you want, boy All that you can have, boy Got me spread like a buffet Bon appétit, baby Appetite for seduction Fresh out the oven Melt in your mouth kind of lovin' Bon appétit, baby
GOT ME SPREAD LIKE A BUFFET? OH, MAN. I'M SWEATIN' LIKE A SINNER IN CHURCH.
And the pre-chorus...
Let me take you Under candle light We can wine and dine A table for two And it's okay If you take your time Eat with your hands, fine I'm on the menu
Fuck.
And this shout out to "I Kissed A Girl..."
So you want some more Well I'm open 24 Wanna keep you satisfied Customer's always right Hope you've got some room For the world's best cherry pie Gonna hit that sweet tooth, boy
FIRST CHERRY CHAPSTICK, NOW CHERRY PIE.
This is Quavo's first verse, and I really relate to him talking about going back for seconds:
Sweet potato pie It'll change your mind Got you running back for seconds Every single night
Oh... I guess he meant seconds in a sexy way and not in a "my life is going nowhere and life is pointless so I might as well eat all of the pasta and cry for six hours" kind of way.
These are Takeoff and Offset's verses:
Takeoff:
I'm the one they say can change your life No waterfall, she drippin' wet, you like my ice? (Blast) She say she want a Migo night Now I ask her, 'What's the price?' (Hold on) If she do right, told her get whatever you like
Offset:
I grab her legs and now divide, aight Make her do a donut when she ride, aight Looking at the eyes of a dime, make you blind In her spine and my diamonds change the climate
Then Quavo comes in again with this verse:
Sweet tooth, no tooth fairy Whipped cream, no dairy She got her hot light on, screaming, 'I'm ready' No horses, no carriage
Yeah, uh, like I said, this song is really weird, but I'm also really turned on by it.
Perry does it again.
Citations: Katy Perry Releases New Single, 'Bon Appetit': Listen to It Now (US Weekly)