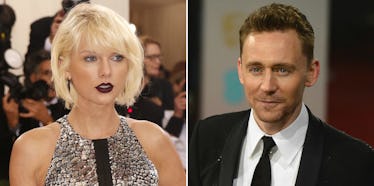 Tom Hiddleston Is Fangirling Taylor Swift And We Need To Talk About It
REUTERS
OK, OK, we get it already, you're in love with Taylor Swift! It's not like you have to wear a vest declaring your unquestionable devotion -- oh.
Really, Tom Hiddleston? He's been pictured frolicking with his girlfriend in a shamelessly skimpy wife-beater that reads, "I heart T.S." You know, just to drive the point home in the cringiest way possible.
It's more embarrassing than Brexit.
The couple were celebrating Independence Day weekend near Swifty's multi-million dollar home in Rhode Island.
But it wasn't just any old day out at the beach for these two. No. They were joined by one of the most powerful celeb crews we've seen in quite some time. We're talking Ryan Reynolds and Blake Lively, Gigi Hadid, Karlie Kloss, Ruby Rose and Uzo Aduba.
It looked like Tom and Tay had a couple of temporary tattoos as well. Honestly guys, what is he doing!? Tom's definitely ruled himself out of being the next James Bond with this extreme PDA. I don't think we're being harsh. Twitter agrees: