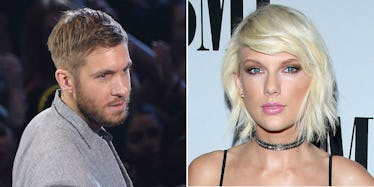 Calvin Harrison Reveals Details About Breakup With Taylor Swift In New Interview
Jason Kempin/Getty Images for iHeartRadio / Turner and Mark Davis/Getty Images
The world is not done talking about Taylor Swift and Calvin Harris. How do we know? Calvin Harris isn't even done talking about Calvin Harris and Taylor Swift.
In the aftermath of their famous breakup roughly a year ago in July 2016, Harris did not handle it super well.
Swift appeared to have shattered the DJ's heart, causing him to throw a public temper tantrum and accuse her of "making him look bad."
This was due to Swift revealing she helped him write his massive hit, "This Is What You Came For," something Harris appeared to have wanted to credit for all by himself.
In defensive tweets, Harris said,
I wrote the music, produced the song, arranged it and cut the vocals though. And initially she wanted it kept secret, hence the pseudonym. Hurtful to me at this point that her and her team would go so far out of their way to try and make ME look bad at this stage though.
Yikes. And no, it didn't stop there. In following tweets he wrote,
I figure if you're happy in your new relationship you should focus on that instead of trying to tear your ex bf down for something to do. I know you're off tour and you need someone new to try and bury like Katy [Perry] ETC but I'm not that guy, sorry. I won't allow it.
Now, Harris is singing – er, DJing? – a different tune.
In an interview with British GQ, he admits lashing out at Taylor Swift was not the right move, saying he "snapped."
It was completely the wrong instinct. I was protecting what I see as my one talent in the world being belittled. It felt like things were piling on top of me and that was when I snapped.
Nothing like a year's worth of perspective, eh, Calvin? Still, it takes a big person (celebrity or not), to admit they're wrong.
In his interview, he added,
It's very difficult when something I consider so personal plays out very publicly. The aftermath of the relationship was way more heavily publicized than the relationship itself. When we were together, we were very careful for it not to be a media circus. She respected my feelings in that sense. I'm not good at being a celebrity. But when it ended, all hell broke loose. Now I see that Twitter thing as a result of me succumbing to pressure. It took me a minute to realize that none of that matters.
Look, can I be honest with you, Cal? I forgive you. I forgave you a year ago. Plus, your new song "Feels" with Katy Perry is a damn delight.
You know how the celebrity saying goes: Forgive, forget, take back your explosion of emotions on Twitter.