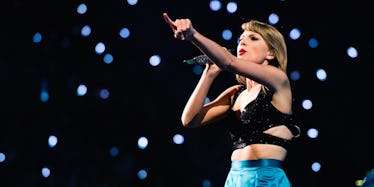 Taylor Swift Casually Performed A Calvin Harris Song To Make Her Comeback
REX/Shutterstock
Oh. My. God. Taylor Swift is a goddamn savage.
The 1989 singer performed live for the first time in almost a year, and she brought the fucking house down.
Swifties were able to watch the star in Del Valle, Texas, sing a collection of her greatest hits including "We Are Never Ever Getting Back Together" and "Fifteen."
She also casually sung "This Is What You Came For" AKA THE SONG SHE CO-WROTE WITH HER EX-BOYFRIEND CALVIN HARRIS.
Deep breaths, everyone. We'll get through this together ... SOMEONE GET ME AN INHALER AND AN ICE PACK, ASAP.
WOWOWOWOWOW. Did you see the look she gave her audience? "Suck it, Calvin Harris. You bet I went there, big boy."
SHE IS A GODDAMN SAVAGE.
It was this past July when we learned Taylor Swift secretly wrote "This Is What You Came For." Apparently the 26-year-old played the tune on the piano, sent Calvin an iPhone clip and he released it with Rihanna. Cute.
Taylor reportedly kept publishing rights but was using the pseudonym Nils Sjoberg in the credits.
Pretty crazy, right?
Calvin and Taylor also got into a massive fight about the whole thing.
He even threw shade at Taylor Swift for moving on to Tom Hiddleston so quickly. OUCH, BRO, that one's gotta hurt.
Anyway, forget the boys. This isn't about them, this is about Taylor Swift's epic comeback.
In addition to the performance, Swifties believe Tay will drop a new album on October 23, 2016.
The date's numbers (10/23/16) add up to 13, which is Tay's lucky number. (1 + 0 + 2 + 3 + 1 + 6 = 13. It took me a sec to figure out, too.)
So, what's the deal? Will she release a new album today? WILL WE GET TO HEAR 13 NEW SONGS ABOUT HIDDLESWIFT?!
Man, a girl can only hope.
Citations: Taylor Swift Performance (People)