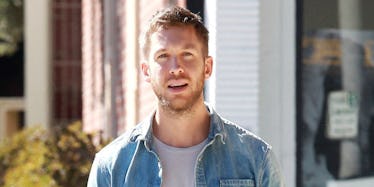 Calvin Harris Speaks Out About His Breakup With Taylor Swift For The First Time
REX/Shutterstock
You will never look at Calvin Harris the same way again after hearing him talk about his relationship with Taylor Swift.
In the literal day following the abrupt but completely expected breakup of Hiddleswift, Calvin Harris has come forward to talk about what it was like to date and dump -- arguably --  the most famous person in the world.
Harris, who won GQ's best Solo Artist of The Year award last night and will be the cover of GQ Britain's October issue, told the magazine,
It's very difficult when something I consider so personal plays out very publicly… The aftermath of the relationship was way more heavily publicized than the relationship itself.
Also admitting,
When we were together, we were very careful for it not to be a media circus... She respected my feelings in that sense.
Things got dicey after the couple split, though.
Taylor called out Harris for not giving her credit for his work on "This is What You Came For," a collaboration he did with Rihanna that later netted him VMA honors.
Harris responded by tweeting,
I figure if you're happy in your new relationship you should focus on that instead of trying to tear your ex-BF down for something to do.
He regrets tweeting that response to Taylor and apologizes for it in GQ, saying,
It was completely the wrong instinct. I was protecting what I see as my one talent in the world being belittled... It felt like things were piling on top of me and that was when I snapped… I'm not good at being a celebrity, but when it ended, all hell broke loose… Now I see that Twitter thing as a result of me succumbing to pressure...It took me a minute to realise that none of that matters. I'm a positive guy.
As for the relationship as a whole, Harris says,
For both of us it was the wrong situation... it clearly wasn't right, so it ended, but all the stuff that happened afterwards…
It's not all terrible, though. Last night at the awards show, Calvin took time to acknowledge how far he's come as an artist over the past few years, saying,
I feel at 32 I'm nearing the end. Just kidding. This week ten years ago was when I left Marks and Spencer Simply Food in Clapham South where I carried out such tasks as date-rotating sandwiches and telling old ladies where we moved the salmon.
Eff, I kinda totally love Calvin Harris now.
Citations: Calvin Harris Gets Real About the Aftermath of His Split From Taylor Swift (E!)