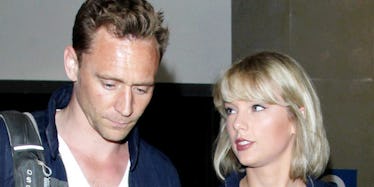 Taylor Swift And Tom Hiddleston Allegedly Broke Up And He's 'Embarrassed'
REX/Shutterstock
It looks like it's all over for Taylor Swift and Tom Hiddleston.
This serious MONSTER NEWS literally broke the Internet on Tuesday afternoon.
The star-studded power couple has allegedly parted ways after three months of intense dating, as reported by Us Weekly.
A source told the news outlet that Hiddleston wanted the relationship to be too public for Taylor Swift's liking, and they ended up fizzling out hard. The source admitted,
She was the one to put the brakes on the relationship.
Oh, Hiddleswift, we hardly knew ye.
The source went on to say,
Apparently, Tom wanted the relationship to be more out in the open than she was comfortable with. Taylor knows the backlash that comes with public displays of affection, but Tom didn't listen to her concerns when she brought them up.
The source added Tom Hiddleston is "embarrassed that the relationship fizzled out."
Relationship-hopper Taylor Swift was pictured smooching Hiddleston just a couple weeks after ending things with DJ Calvin Harris (he's since moved on and was pictured this Labor Day weekend with Eiza González).
TBT to when Tom wanted all of us to know his relationship with Taylor was anything but a fraud.
OH, and remember that time on the Fourth of July weekend when Taylor and Tom enjoyed a major bonding moment with squad members Blake Lively and Ryan Reynolds?
MAJOR PDA vibes went down when Taylor cozied on up to Tom on that chair.
I don't think any of us can forget the fact that Taylor may have been dressing Tom all along. Heck NAH, never FORGET.
I guess all of these are simply distant memories now because the celebrity couple has apparently bid farewell to their romance.
Rest in peace, Hiddleswift.
Bets are on for who Taylor's going to date next -- my money's on Jack Black, for the comedy factor.
Citations: Taylor Swift, Tom Hiddleston Split After Three Months of Dating: What Went Wrong? (US Weekly)