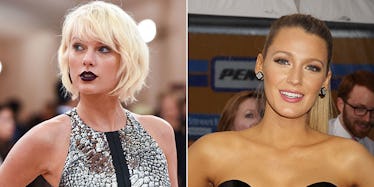 This Pic of Taylor Swift and Blake Lively Cuddling Tom and Ryan Is Everything
REX/Shutterstock
OK, Taylor Swift and Tom Hiddleston just became Instagram official.
The lovebirds spent the weekend celebrating the Fourth of July together at Taylor's house in Rhode Island. Several other celebrities, like Gigi Hadid and Blake Lively, were also there. It was a star-studded banger, that's for sure.
Now that the holiday is over, the ladies have been adding several pictures of the party to social media.
But wait, there's more. Taylor's good friend Britany LaManna just added a photo of all the couples together and it's honestly everything to me.
JUST LOOK AT THIS INSTAGRAM! It's Taylor Swift, Tom Hiddleston, Blake Lively and Ryan Reynolds in one freaking photo.
And more than that, THEY'RE SHOWING PDA.
Britany and her bae are there too, so it's an all-around amazing shot.
ALSO, Blake and Ryan look absolutely adorable. ALSO, LOOK AT TOM AND TAYLOR STARING INTO EACH OTHER'S EYES. Wow, I'm going to vomit. Somebody find me a boyfriend ASAP.
Taylor has been adding pictures all day, but none of them are with Tom.
I mean, this is cute, Tay, but where the F is your bae? SHOW US MORE PICS OF YOU GUYS MAKING OUT.
There have been some conspiracy theories circulating that believe Taylor Swift and Tom Hiddleston aren't actually dating, but now I'm not sure what to think.
This Instagram pic may be the first one of the couple not taken by paparazzi. Still, it is really posed, but whatever. It's cute and that's all that matters.
Also, I'd love to just point out Ryan Reynolds' face in the photo. He's not down with it, Blake. Somebody get this guy a pie.
Peace, love, pie and #Hiddleswift.