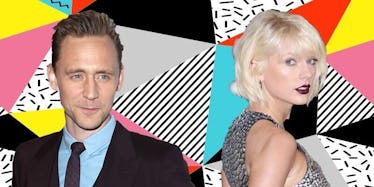 Tom Hiddleston Wants You To Know His Relationship With Taylor Swift Isn't Fake
REX/Shutterstock
Tom Hiddleston spent the weekend at San Diego's Comic-Con to promote his upcoming movie "Kong: Skull Island" and talk about his return to "Thor: Ragnarok" as Loki.
Fans were super excited for the actor's future roles, but people were obviously also curious about what else he's currently up to... like dating Taylor Swift.
Since Tom and Taylor became an item, fans have been skeptical about the legitimacy of their relationship.
There are even conspiracy theories circulating about how Hiddleswift is a publicity stunt and the two are really just making a music video.
Tom had quite a lot to say on the matter when asked about the "fake relationship" rumors at Comic-Con. He told PEOPLE Magazine,
I don't know, it comes down to being authentic. Everything you do you have to make sure you truly believe in it and as long as you know that, it doesn't matter what anyone else says about it because the nature of being a public figure is that everyone will have an opinion about anything you do, and as long as you know why you've done something and you've committed to it with authenticity then you're OK.
YOU GOT THAT, HATERS?
Tom Hiddleston and Taylor Swift's relationship seems to be stronger than ever after all of the Kimye drama that happened this week.
The couple was spotted laughing together and having a good time, even after the 1989 singer's phone call with Kanye West about his song "Famous" was leaked.
According to Tom, it sounds like what they have is real.
All I know is Taylor Swift hasn't made new music in two years, so she should have a new music video coming out soon...
JUST SAYIN'.
Citations: Tom Hiddleston Discusses Relationship With Taylor Swift (People Magazine)