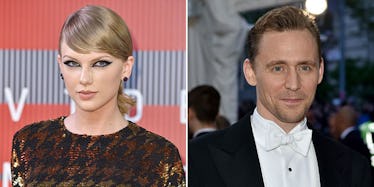 Taylor Swift And Tom Hiddleston Spotted For First Time Since Kimye Drama
REX/Shutterstock
Taylor Swift has finally come out of hiding since the Kim Kardashian-Kanye West drama.
This past week, several stars became involved in the feud and voiced their opinions on the matter. Everyone from Selena Gomez to Chloë Grace Moretz had something to say about the #KimExposedTaylorParty.
Taylor even wrote a response on Instagram shortly after Kim posted the infamous Snapchats. Yeah, things got intense.
But that all happened Sunday night. Since writing the post, the 1989 singer laid low and stayed out of the public eye.
UNTIL NOW.
The Daily Mail shared photos of Taylor Swift and Tom Hiddleston out together having a grand old time as if Taylor's life never got completely destroyed on the Internet.
This is the first time the singer has been seen since her phone call with Kanye West was leaked. SHE'S ALIVE, YOU GUYS!
And it looks like she's still going strong with Tom Hiddleston. The 35-year-old actor seems to be standing by his woman's side after everything that happened.
According to E! News, a source close to the couple even said,
Tom is not annoyed by the negative media attached to Taylor. He knew that would come with the course of dating her. He has been supporting her and enjoying the time he's having with her. They're having a great time and are always laughing.
WHAT A GUY!
Congrats on coming out of the shadows, Taylor. I was worried about you, that's for sure.
Citations: Daily Mail