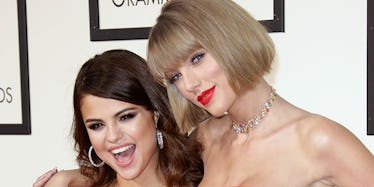 Selena Gomez Responded To Kim K Leaking Taylor Swift's Call With Kanye
REX/Shutterstock
After Kim Kardashian leaked a phone call between Taylor Swift and Kanye West, it seemed like the conversation was all everyone was talking about, including Selena Gomez.
After Twitter exploded with posts about the topic, Selena put her own thoughts into the mix and weighed in on the subject with a few tweets that seem directed at Kim K.
She started with this initial pair of posts.
Around 30 minutes later, she added this tweet.
Gomez's posts seem to speak pretty clearly: she's not impressed with Kardashian leaking the video of what was, after all, a private conversation.
That private conversation has, nonetheless, sparked a controversy. The video, which was initially posted on Kim's Snapchat, leaves plenty of room for people to label Taylor Swift a liar, particularly after it was implied over a span of months that Kanye never told the singer about his controversial lyrics in the song "Famous".
It's no surprise, then, that Taylor quickly sent out a message on social media defending herself, as she made an effort to clear up exactly why she had taken offense to the song.
Now, it looks like Selena Gomez is joining that defense and doing it in a not-so-subtle way.