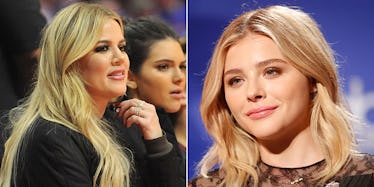 Khloé Kardashian Used A Very NSFW Pic To Call Out Chloë Grace Moretz
REUTERS
Khloé proved that Kim wasn't the only riled up Kardashian on Sunday night.
After her older sister posted a video of a phone conversation between Kanye West and Taylor Swift, which set Twitter on fire, Khloe made sure she was a part of the conversation.
The 32-year-old posted this pair of tweets, seemingly in response to Kim's Snapchat videos.
Khloé wasn't the only celebrity who weighed in on the conversation, though. Selena Gomez jumped in to defend Taylor Swift and actor Chloë Grace Moretz had something to say, too.
The 19-year-old "Neighbors" star posted a few messages that looked as if they were meant to shame "everyone in this industry" -- AKA those involved in the Taylor-Kanye drama.
Notably, Moretz did not name any names, but Khloé wasted no time in responding. Khloé directed this unsavory and NSFW tweet right at Moretz.
Moretz, for her part, stood her ground, stating that the Khloé's tweet was a gross misrepresentation of her. The actor did, indeed, post photos proving the woman shown on the right in Khloé's tweet was another person. Just check out those blue bottoms as evidence.
Khloé's tangle with Moretz is indicative of how messy this controversy has already become, less than 24 hours after Kim Kardashian posted her videos.