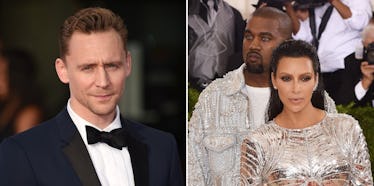 Here's How Tom Hiddleston Reportedly Reacted To The KimYe Taylor Swift Feud
REX/Shutterstock
It's been several days since Taylor Swift became a victim of being exposed by Kim Kardashian and we have to know -- what does Tom Hiddleston think about all of this?!
Despite Taylor expressing her disapproval of Kanye West's controversial lyrics in reference to her, the 26-year-old singer's voice was captured on video as she gave West permission to reference her in his single "Famous," off of his last album. As for Kim, well, she posted the entire thing on Snapchat to expose Swift's initial approval of the lyrics and support her husband.
So, what are Tom Hiddleston's thoughts on all of this Kimye/Taylor Swift drama?
A source close to the couple tells E! News,
Tom is not annoyed by the negative media attached to Taylor. He knew that would come with the course of dating her. He has been supporting her and enjoying the time he's having with her. They're having a great time and are always laughing.
It makes sense why Tom Hiddleston isn't annoyed at the endless drama surrounding his new lady. After all, this is Taylor Swift we're talking about here. He better be fine with it!
As for Taylor? Well, she's been a little less reserved about whole situation. After all, she just wants to be "excluded from this narrative."
Taylor is not happy about what happened with Kim and Kanye. She thinks they are using her to get even more publicity.
The feud between Kanye West and Taylor Swift, which first started back in 2009 at the VMAs, looks like it's taking a turn for the worst. Despite Kanye and Taylor trying to work things out in the past and find different ways to work together, it seems like Swift has had enough of Kanye's wild publicity antics once and for all.
She is not a fan of Kanye and won't ever work with him or talk to him again at this point.
And to think this all started because of Beyoncé... Anyone ever ask Jay-Z for his take on this?!
Citations: How Tom Hiddleston Feels About the Drama Surrounding Taylor Swift and Kim Kardashian (E! News)