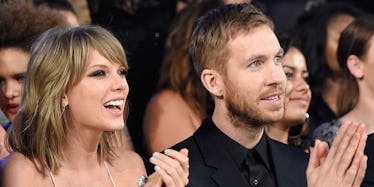 Fans Think Calvin Harris' New Song With Katy Perry Disses Taylor Swift
Kevin Mazur/BMA2015/Getty Images
Calvin Harris just dropped "Feels," a single from his upcoming fifth studio album called Funk Wav Bounces Vol. 1, and he's not kidding when he says "funky wave bounces."
This song is seriously a jam. I've only listened to it twice and the chorus (sung by none other than Katy Perry) is already stuck in my head.
The song features Pharrell Williams, Perry, and Big Sean. The rest of Funk Wav Bounces Vol. 1 comes out on June 30.
We already knew Perry was going to be featured on a song on the album thanks to Harris's album announcement on Twitter on May 9.
Right from the start, fans assumed the song was meant to throw shade at Taylor Swift, who has been in a fight with Katy Perry for five lonnnnggggg years.
And now that the song has been released, we have the lyrics to all but confirm that "Feels" might be about Harris' time with Taylor Swift.
Elite Daily reached out to Harris' team for the real confirmation, but did not hear back by the time of publication.
It starts off with a Pharrell verse and the pre-chorus:
Hey! Well nothing ever last forever, no One minute you're here and the next you're gone So I respect you, wanna take it slow I need a mental receipt to know this moment I owe Do you mind if I steal a kiss? (Chop, chop) A little souvenir, can I steal it from you? To memorize the way you shock me The way you move it here (Hey) Just wanna feel it from you (Hey)
Then comes the Katy Perry chorus:
Don't be afraid to catch feels Ride drop top and chase thrills (Hey) I know you ain't afraid to pop pills (Hey) Baby, I know you ain't scared to catch feels Feels with me
After two more Pharrell verses and the chorus, we get a verse from Big Sean:
Goddamn, I know you love to make an entrance Do you like getting paid or getting paid attention? You mixed the wrong guys with the right intentions In the same bed, but it still feel long distance She's looking for a little more consistency But when you stop looking you gon' find what's meant to be And honestly, I'm way too done with the hoes I cut off all my exes for your x and o's I feel my old flings was just preparing me When I say I want you, say it back, parakeet Fly in first-class through the air, Airbnb I'm the best you had, you just be comparing me to me I'ma 'at' this at you, if I put you on my phone And upload it, it'll get maximum views I came in through in the clutch with the lipsticks and phones Wear your fave cologne just to get you alone
The rest of the song is just repeats of the chorus with Big Sean echoing Perry.
Let's point out some of the obvious, shall we?
First, if these lyrics are about anyone other than Taylor Swift, I would be genuinely shocked. The internet agrees.
Now let's point out the line that had me quite shook.
Goddamn, I know you love to make an entrance Do you like getting paid or getting paid attention?
WOW. OK, UM. THIS IS QUITE DEADLY.
To me, this is a direct reference to Swift's very public relationship with Tom Hiddleston. There is lots of speculation that the relationship was fake, and that the first pictures released of them kissing on a rock in Rhode Island were staged.
These pictures circulated not long after Harris and Swift's breakup, which Harris semi-addressed on Twitter.
First, he unfollowed Swift and blocked some of her fans. Then, he tweeted, "Oh boy it's about to go down."
Safe to say he wasn't pleased about the whole Tom Hiddleston thing.
I would now like to redirect your attention to the date the above tweet went out: June 15, 2016.
Today is June 16, 2017. Literally one year after the Tiddleston "romance" was revealed.
And that, my children, is the only proof we need that "Feels" is about Taylor Swift.
I SEE WHAT YOU DID THERE, CALVIN.