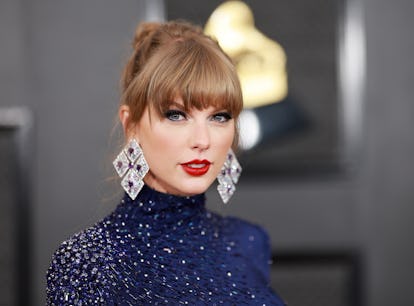 So Taylor Swift & Harry Styles Hugged At The Grammys
She was his most supportive fan.
Matt Winkelmeyer/Getty Images Entertainment/Getty Images
There's no such thing as a "normal night" when the Grammys are in town. The awards show is always filled with thrilling and eyebrow-raising moments on and off stage, and the 2023 ceremony lived up to that signature craze. This year, the most unexpected surprises were all the celebrity interactions caught on camera, including Taylor Swift and Harry Styles briefly reuniting in the crowd. You know, just casual ex things.
On Feb. 5, both artists appeared at the 2023 Grammys and celebrated some huge wins. ICYMI, Swift won "Best Music Video" for her self-directed All Too Well: The Short Film while Styles took home "Best Pop Vocal Album" and "Album Of The Year" for Harry's House. Swift appeared to be Styles' biggest cheerleader that night, and it was heartwarming to see.
In the video below, the Midnights singer can be seen in the top right dancing during his performance of "As It Was." This wasn't the only time she showed her moves that night (honestly living for her getting down to Bad Bunny), but her finger-snap, hip-swaying combo for Styles' set was just as legendary.
Even TikToker (and certified Swiftie) Chris Olsen couldn't handle the "Anti-Hero" singer enjoying Styles' performance. Olsen, who also attended the ceremony, posted a video on Instagram of him reacting to Swift dancing, writing: "WHY AM I EMOTIONAL RN @recordingacademy @meta #harrystyles #taylorswift."
Shortly after Styles' performance, Swift also applauded him for his "Best Pop Vocal Album" win.
Don't worry, this interaction only gets sweeter. According to The Hollywood Reporter's Chris Gardner, Swift reportedly went over to Styles' table for a brief chat.
"Now this is a another historic #Grammys moment. During Steve Lacy's performance, Taylor Swift snuck over to talk to Harry Styles. They hug + talk for a long time over his table," Gardner tweeted alongside a video of the two exes speaking to one another.
Swift also put an affectionate hand on his arm during the ceremony, as seen below.
This rare moment is legendary, considering the two singers briefly dated from 2012 to 2013. Following their split, Swift seemingly wrote several tracks about Styles on her 2014 album, 1989, and fans have even recently speculated their relationship served as a muse on Styles' latest album.
It's good to see there's no bad blood between them.