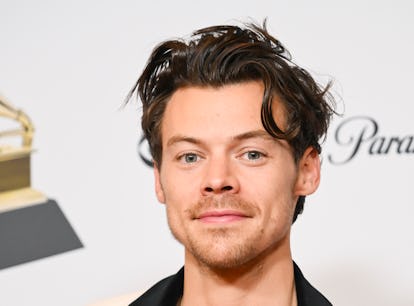 A Full Timeline Of Harry Styles' Love Life, From 2007 To Now
And yes, there are a lot of models.
Ever since his boy band days, Harry Styles' love life has been a topic of conversation. Although the "Watermelon Sugar" singer has gotten more and more private about his romances over the years, that hasn't put a stop to the public's interest. In October, that only became more obvious when Taylor Swift — arguably Styles' most famous ex — re-released 1989, much of which fans think was written about their relationship. Specifically, Swift's vault track "Is It Over Now?" seemed to shed light on their brief but memorable romance, according to fan speculation.
In the song, Swift sings about an on-and-off situation with an ex, specifically someone who had a habit of dating her "clone." The most damning lyrics go: "If she's got blue eyes, I will surmise that you'll probably date her ... You search in every model's bed for something greater, baby."
Although Swift has not confirmed the lyrics are about anyone in particular (and she does write fictional stories in many of her songs), many fans believe the song is a dig at Styles. His dating history can shed some light on why they're so convinced, despite a lack of serious evidence.
2007: Abigail Crawshaw
It all started in 2007 with Styles' hometown girlfriend. Abigail Crawshaw. According to J-14, Styles and Crawshaw dated when the singer was 12, and the two have remained friends post-breakup. He even invited Crawshaw to some One Direction shows over the years.
2011: Caroline Flack
Caroline Flack and Harry Styles kicked things off back in 2011. Flack, a TV presenter and Love Island host, met Styles on the set of X-Factor. Styles was 17 years old, while Flack was 31. In 2015, she discussed the age gap in an interview with People, saying, "I've never felt I was much older than Harry anyway. I still feel 18 and probably act that way half the time."
They broke up in 2012, with Styles confirming the split on Twitter in January of that year. "Please know I didn't 'dump' Caroline. This was a mutual decision," he wrote, per BBC. "She is one of the kindest, sweetest people I know. Please respect that."
April 2012: Emma Ostilly
Emma Ostilly and Styles reportedly began their romance in April 2012, soon after his breakup with Flack. The duo met when Ostilly starred in One Direction's "Gotta Be You" music video, but they were only spotted kissing once post-filming.
May 2012: Emily Atack
Styles and British actor Emily Atack reportedly had a brief fling in May 2012. She addressed the rumors in a 2013 interview with Reveal Magazine, per Hello!: "We were never boyfriend and girlfriend. I think that's the first time I've ever admitted to what it was, because I've always just shrugged it off before."
Atack added, "We had a short-lived thing that was just a bit of fun. Then we went off in our opposite directions." She made it clear there were no hard feelings. "Harry and I had a laugh. It was brief, but fun, and then we moved on."
2012-2013: Taylor Swift
Swift and Styles' romance was short-lived; they only dated from late November 2012 to January 2013. The pair was spotted together only a few times, but their connection wasn't exactly a secret, especially post-breakup — lest we forget Swift appearing to imitate Styles' British accent during her performance of "We Are Never Getting Back Together" at the 2013 Grammys.
After they both released music seemingly about each other (see: "Style," "Out of the Woods," "Perfect," and "Two Ghosts"), the duo seemed to be on good terms. In 2017, Styles called their romance a "learning experience" in an interview with Rolling Stone.
In 2020, he said Swift's songs about him were "flattering." At the time, he told Howard Stern, "I think it's, like, flattering. Even if the song isn't that flattering, you still spent time on it and ultimately, using Taylor as an example, she's a great songwriter. So they're good songs."
2014-2015: Nadine Leopold
After splitting from Swift, Styles reportedly dated Victoria's Secret model Nadine Leopold. "Harry has been getting more serious with Nadine," a source told Us Weekly in January 2015. Though they weren't official at the time, the insider claimed they had been "spending lots of time together" since meeting through her agent in November 2014.
June 2015: Sara Sampaio
Styles spent time with another Victoria's Secret model next, according to rumors. In photos obtained by the Daily Mail in June 2015, Styles was seen kissing Sara Sampaio in New York City. They reportedly spent the night at the same hotel that same week, too.
October 2015: Georgia Fowler
Styles was rumored to be dating (another!) Victoria's Secret model, Georgia Fowler, after she shared a video of them playing Scrabble on Snapchat. Since Fowler is from New Zealand, fans think the Styles' song "Kiwi" might be about her.
She addressed the rumors on "The Morning Show," an Australian talk show, in 2017, saying, "I don't really know anything about it — definitely didn't have a baby. That's what the song's all about so I think it's highly unlikely." (The lyrics go: "I think I'm losin' it, oh, I think she said / I'm having your baby / It's none of your business.")
2015-2016: Kendall Jenner
This relationship really threw the world for a loop. In December 2015, Kendall Jenner and Styles were first spotted in St. Barts together, and their PDA-filled yacht date was telling.
Though Styles and Jenner stayed mum on the rumors, Jenner's older sis Khloé Kardashian admitted they were an item in a 2016 interview. "They were hanging out together. Do I think they're dating? Yes. I don't know if they're like boyfriend-girlfriend. Nowadays, I don't know, people are weird with stuff. So I don't know their 'title,'" Khloé said at the time.
2017: Camille Rowe
Turns out, Styles had a bit of a thing for models. In 2017, romantic rumors spread about him and Victoria's Secret model Camille Rowe after they were spotted together in NYC. At the time, the Daily Mail reported that Styles was "besotted" with Rowe.
Though the duo never confirmed a relationship, when Styles came out with "Cherry" in 2019, he included a voicemail from Rowe in it. He also sang of their former romance, "I just miss your accent and your friends." (She has a French accent.)
Early 2021-November 2022: Olivia Wilde
In January 2021, Wilde and Styles were spotted holding hands at his agent's wedding. Though they mostly kept quiet on their romance, the duo did drop a few hints about their 'ship. In December 2021, Wilde told Vogue that she was "happier than ever" in life. And in May 2022, Styles referenced "trust[ing]" Wilde as a director while shooting Don't Worry Darling. He also seemed to allude to her in his song, "As It Was," with the line, "Leave America, two kids follow her."
In November 2022, People reported that the couple was "taking a break." And in December 2022, Wilde was reportedly still hurting after the split. On Dec. 8, an insider told Us Weekly, "Olivia is still very much upset about the breakup," adding that she's been "trying to move on."
March 2023: Emily Ratajkowski
Styles and Emily Ratajkowski had a very public makeout in March 2023, following their respective breakups. In a video obtained by the Daily Mail, the duo was seen kissing on a street in Tokyo after Styles performed there for Love On Tour.
A month later, EmRata spoke to Vogue about fans' reactions to her and Styles' makeout — and her main takeaway had to do with Styles' ex, Wilde, and all the attention she was receiving when they dated. "I feel bad for Olivia, because she had to suffer this situation on several occasions," Ratajkowski said at the time.
June 2023-Present: Taylor Russell
Dating rumors surrounding Styles and Taylor Russell began after she attended his concert in Vienna — and sat in the VIP section, according to TMZ footage. Per Page Six, they were also photographed holding hands as they explored the Austrian city.
In August, more proof of their connection came to light when Styles attended Russell's play in London and hugged her post-show. Per Page Six, they remained close at the afterparty and left together.
This article was originally published on