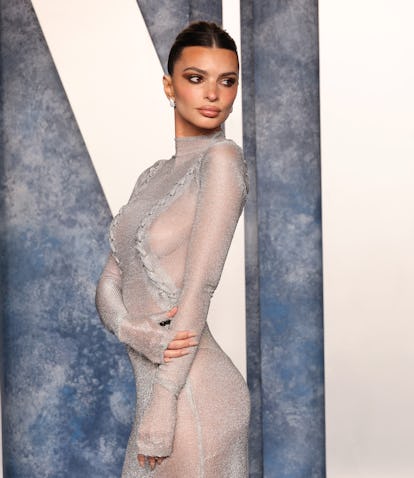 Emily Ratajkowski Admitted She Feels Bad For Olivia Wilde After Kissing Harry Styles
She's finally talking about *that* kiss.
John Shearer/WireImage/Getty Images
A month after Emily Ratajkowski's unexpected makeout session with Harry Styles rocked the internet, the supermodel is finally opening up about it. Ratajkowski briefly addressed the public response to the kiss in a Vogue profile, but focused most of her response on Styles' ex Olivia Wilde. It's clear from Ratajkowski's quote about kissing Styles that she's more concerned with how Wilde was affected by the viral moment.
Ratajkowski got real about her kiss with Styles in her April 20 interview with Vogue Spain. When asked about rumors that she and her friend Wilde were on the outs because of the kiss, Ratajkowski compared the scenario to the Adam Levine cheating scandal. The model shared her distaste for how the public can target the wrong people when messy romantic entanglements start making headlines.
"These approaches occur over and over again. I did a TikTok talking about it when the Adam Levine case came to light," Ratajkowski said. "All my algorithm on this social network showed content focused on slut-shaming a 23-year-old girl. I was frustrated with the way in which an attack narrative was being established on this girl, instead of asking what happens to the person who is in a relationship and as such has contracted obligations."
Because of that, Ratajkowski shared that her main concern in the wake of the kiss was for Wilde and how she's been perceived. "In the case you ask me about, it's more of the same. I feel bad for Olivia, because she had to suffer this situation on several occasions."
Ratajkowski went on to call out the "strange" fascination with her love life. Since her divorce from ex-husband Sebastian Bear-McClard in 2022, Ratajkowski has been linked to a number of famous men, including Pete Davidson and Eric Andre. The model said that the intense focus on who she's dating is "bizarre."
"It's very bizarre to have certain experiences and then have the whole world know about them and comment on them," Ratajkowski said. "I'm just a person who's gone from a three-year relationship to a four-year relationship, so this is the first time in a long time that I've been in a dating stage. The interest there is in that particular area is very strange. Not that I'm surprised, but it's a tiny slice of my life. Most of my life is focused on my son and my work. But I guess these issues don't inspire the same flashy headlines."