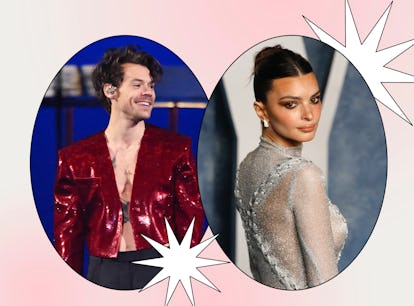 This Video Of Harry Styles & Emily Ratajkowski Kissing Has The Whole Internet In Shock
Karwai Tang/WireImage/Getty Images, Robert Smith/Patrick McMullan/Getty Images
Nothing is the same as it was after the latest celebrity hookup bombshell. On March 25, the internet was rocked by an unexpected video of Harry Styles and Emily Ratajkowski making out in the streets of Tokyo after Styles' Love on Tour concert there. The passionate kiss came after some recent high-profile breakups for both superstars, and sparked new dating rumors that nobody saw coming. Social media immediately flooded with tweets and memes of fans reacting to the Harry Styles and Emily Ratajkowski kiss, and there are a lot of reasons for the intense responses.
Styles and Ratajkowski certainly didn't seem to be hiding their new connection in the March 25 video capturing the two stars making out after Styles' concert. Though neither of them has commented on the clip yet, fans did notice Ratajkowski liked a tweet about the kiss. However, nobody knows yet if it was just a one-time flirty moment or possibly the start of a new power couple.
The kiss came as a surprise to fans for a number of reasons. Styles had just ended a particularly high-profile relationship with Olivia Wilde four months prior, and Ratajkowski has had a string of famous flings in the wake of her divorce from ex-husband Sebastian Bear-McClard last year. In recent months, Ratajkowski has been linked with celebs like Brad Pitt, Pete Davidson, and Eric André.
As the makeout video went viral, fans shared their surprise over what may become 2023's most unexpected new couple.
The superfans didn't stop there, though. Styles' fans dug deep and found clips of Ratajkowski attending the singer's Paris concert last July, sitting next to his then-girlfriend Olivia Wilde. Fans also claimed that Styles had followed Ratajkowski on Instagram right around the time his breakup with Wilde became public knowledge.
Longtime Styles fans also resurfaced a 2014 interview in which the singer named Ratajkowski as his celebrity crush.
So, while the Don't Worry Darling drama may be in the past, it looks like Styles fans will have no shortage of romance rumors to obsess over in 2023.