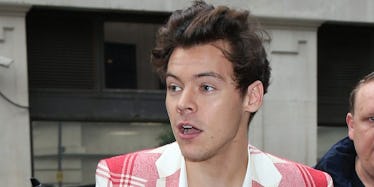 Harry Styles Is Reportedly Dating This Victoria's Secret Model And Fans Are Losing It
Getty Images
Are you sitting down? Do you have a box of tissues at the ready? OK, great, you're going to need it because rumor has it that Harry Styles and Camille Rowe are reportedly dating. Who is Camille Rowe, you ask? Well, she's a Victoria's Secret model who made her VS debut at the 2016 Victoria's Secret Fashion Show.
Elite Daily reached out to Styles and Rowe's teams about their rumored relationship, but did not hear back by time of publication. Styles and Rowe were seen together at a gig in NYC earlier this week, according to Daily Mail, and Styles is reportedly "besotted" with her. (I genuinely don't think I've ever used the word "besotted" in a sentence in my 24 years of life.) Styles, 23, and Rowe, 27, were photographed hanging out together in NYC, which only added more fuel to the dating rumors fire.
Rowe is the third Victoria's Secret model Styles has reportedly dated. The first was Kendall Jenner, who Styles has been seen with off and on over the last couple of years, and he reportedly had a short fling with Cara Delevingne as well. An anonymous source told The Sun that Styles is "very protective" of his relationships and the pair seems "well suited."
Though Styles and Rowe are reportedly only in the "early stages" of dating, some fans are already freaking out wondering who Rowe is, but some also think the news isn't true, claiming Rowe is dating someone else and her relationship with Styles is just a rumor. Others are just upset that Styles might be taken.
It seems lots of fans feel lots of things about Harry Styles' new relationship. Funny thing is though, on July 17, while he was doing promotional interviews for his film debut Dunkirk, Styles stopped by the BBC1 Radio station for an interview with Nick Grimshaw. In the video, Grimshaw has Styles hooked up to a heart monitor and holds up a handful of pictures to see which one makes Styles' heart rate jump.
His heart rate starts at 68 beats per minute, so whatever picture makes it go up from there counts as a jump. And a photo of Rowe is included in this bunch. (Keep in mind, this is before the dating rumors even started.)
Dunkirk director Christopher Nolan is the first picture, and an old picture of Styles in some worn-out purple sneakers is next. Then Grimshaw shows a picture of a shirtless Ryan Gosling followed by a shirtless Zayn Malik, and Styles' heart beat jumps up to the highest point so far when he see Gosling's picture. Honestly, that's fair. Who doesn't Ryan Gosling have an effect on?
The last two pictures are of a briefcase full of cash, which makes his heart rate jump, and then Rowe's picture. His heart rate... lowers. Styles says, "I don't know her. I'm sure she's wonderful. I'm sure she's a wonderful person." Then he looks over to some people off camera with a look that says "I hate everything about you." I have no idea what to make of this, so I'll let you guys come up with your own theories.
While you do that, I'll be seeing Dunkirk for the third time.