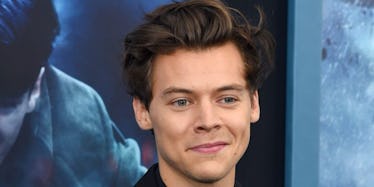 Harry Styles' Fans Got #RespectHarry Trending On Twitter For The Craziest Reason
Jamie McCarthy/Getty Images
Ahhhh, Harry Styles. Where do I start? Gorgeous hair. Charming smile. Fun personality. Angelic voice. It's easy to see why fans adore the former One Direction member so much. That being said, Harry Styles's fandom got #RespectHarry trending on Twitter today as they rallied behind the star to emphasize the importance of giving him his privacy after an alleged incident involving some (wannabe?) groupies. Apparently, the viral hashtag started after a stan account tweeted screenshots of tweets, texts, and messages that appear to come from a group of girls trying to give Harry Styles flowers and make their way into his inner-circle.
The girls, all of whom were dressed in silk robes and lacy tank tops, were trying to meet Styles outside of his apartment, and had messages talking about how they planned to become his groupies so they could do "all the things groupies do" like "look hot," "go backstage," and "hang out with the band." Allegedly, Harry did not accept the flowers from the fans, instead, sending members of his team to turn them away. Once news of this broke, the hashtag #RespectHarry originated — it's meant to be a gesture to protect Harry from the invasiveness of fans and the media.
Of course, there is no confirmation that any of this ever actually happened, and even if it did, there's never an excuse to attack anyone online. With that in mind, #RespectHarry is a mature way to remind fans that the heartthrob we all love so much is not here for the sole purpose of our entertainment, and he deserves as much shelter from the public eye as anyone does. It's cool to love an artist, but you don't need to be a groupie to show your appreciation for their work. We should definitely #RespectHarry, and all other celebs for that matter.