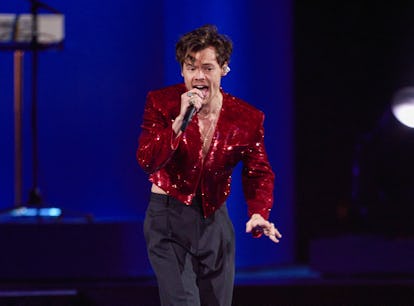 These Harry Styles Lyrics Have A Whole New Meaning After 1989 (TV)
It's not over now, it's just getting started.
Gareth Cattermole/Getty Images Entertainment/Getty Images
A full decade later, the Haylor craze is back and even spicier than ever. Swifties are already well aware that Harry Styles inspired a ton of 1989 songs (I mean, was she even trying to hide it?), and for the most part, those cheery pop songs didn't have many negative things to say about her ex. But it turns out, Swift did pen a few darker songs that drag Styles for filth. Now, those tracks are out of the vault, and interestingly, they share some choice lyrics with phrases in Styles' own songs.
Unsurprisingly, it sounds like most of the five newly released 1989 (Taylor's Version) vault tracks are inspired by her relationship with Styles from 2012 to 2014. While the misleadingly-named "SLUT!" paints their romance in a glowing light, the other cuts aren't so nice to Styles... especially the extremely pointed final track, "Is It Over Now?" In that song, Swift goes in on "a lying traitor" ex who started dating a "clone" of her after their breakup.
Yeah, there are a lot of accusations flying out of that vault. And just to confirm all the tea really is about Styles, Swifties started to notice a lot of the lyrics from the vault tracks mirror lyrics Styles himself has sung.
Here are the Harry Styles lyrics that hit so different after listening to Swift's vault tracks.
1. "Woke up the girl who looked just like you / I almost said your name" — "From the Dining Table"
Styles basically confirmed Swift's "Is It Over Now?" accusation that his "new girl is [her] clone" in his debut solo album. On "From the Dining Table," Styles sings about sleeping with someone who looks so much like his ex he almost called her the wrong name.
2. "Same red lips, same blue eyes" — "Two Ghosts
After singing about her ex dating a "clone" of herself, Swift also made clear he had a very specific type: "If she's got blue eyes, I will surmise that you'll probably date her." Interestingly enough, Styles sings about dating someone with blue eyes that match his ex in "Two Ghosts."
3. "We haven't spoke since you went away / Comfortable silence is overrated / Why won't you ever say what you want to say?" — "From the Dining Table"
In "Now That We Don't Talk," Swift laments cutting off an ex since it's too painful to even speak to him anymore. "I cannot bе your friend, so I pay the price of what I lost / And what it cost, now that we don't talk," Swift sings.
Styles' "From the Dining Table" seems to be from the opposite perspective, as he wonders why his ex would suddenly cut off all communication with him after a breakup.
4. "Is it too much to ask for something great?" — "Something Great"
In "Is It Over Now?," Swift chides a licentious ex: "You search in every maiden's bed for something greater, baby." Styles has dedicated an entire song about his search for "something great" in the One Direction song he wrote.
5. "And the coffee's out / At the Beachwood Cafe" — "Falling"
It sounds like Swift and the ex she sings about in "Is It Over Now?" went on a ton of coffee dates. "Let's fast forward to three hundred takeout coffees later / I see your profile and your smile on unsuspecting waiters," Swift sings.
Styles has also used the imagery of coffee at a cafe to describe a painful breakup in "Falling."
6. "Spinning out, waiting for ya to pull me in" — "Satellite"
In "SLUT!," Swift recalls how her boyfriend would pull her in during her lowest moments: "And I break down, then he's pullin' me in." It's a similar action Styles sings about in "Satellite."
7. "I still taste, the time we kissed, upon my lips, swimming in the blue" — "Trouble"
Styles' unreleased song "Trouble" sounds like a companion piece to Swift's "SLUT!" Swift sings about an "aquamarine, moonlit swimming pool," with the same romantic nostalgia that Styles sings about "swimming in the blue."