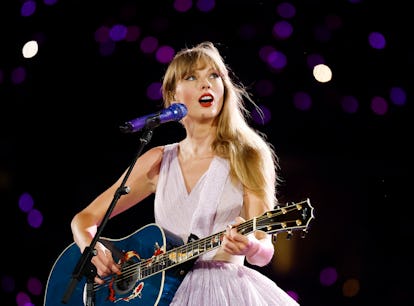 Fans Think Taylor's Accusing Harry Of Dating Her "Clone" In A New Song
"If she's got blue eyes, I will surmise that you'll probably date her."
Emma McIntyre/TAS23/Getty Images Entertainment/Getty Images
Haylors, you may have to skip one of the vault tracks on 1989 (Taylor's Version). In the newly released song "Is It Over Now?," Swift lays into an ex-boyfriend after a bad breakup, calling him "a lying traitor." There are several clues throughout the lyrics that point to Harry Styles being the inspiration for the track, including one brutal line from Swift: "Your new girl is my clone."
"Is It Over Now?" is all about the messy ending to a relationship, as Swift seeks closure over when things actually ended. Swift sings about both her and her boyfriend hooking up with other people, even though they never explicitly broke up — but she was able to hide her trysts from the public while he couldn't: "At least I had the decency / To keep my nights out of sight / Only rumors 'bout my hips and thighs / And my whispered sighs."
There were rumors that Styles cheated on Swift during their relationship, but the real tell that "Is It Over Now?" is probably about Styles is the song's second verse: "When you lost control / Red blood, white snow / Blue dress on a boat."
Those lyrics reference specific events in Swift and Styles' relationship. She previously revealed the couple got into a serious snowmobile accident while they were together. Right after they broke up, Swift was famously pictured sitting on a boat wearing a blue dress.
Swift also seems to take aim at the women Styles dated after they broke up. "You search in every model's bed for something greater," she sings, possibly alluding to Styles' track record of constantly dating supermodels.
But the most damning lyrics call out Styles' more specific type. "Your new girl is my clone," Swift sings, before later re-emphasizing her point by singing, "If she's got blue eyes, I will surmise that you'll probably date her."
The pointed dig seems aimed at Nadine Leopold, the model that Styles started dating shortly after his breakup with Swift. Like several of Styles' exes up to that point, Leopold has blonde hair and blue eyes.
Swift may have been confused about her relationship status when she wrote this vault track, but now the answer to her question is clear: It's definitely over now.