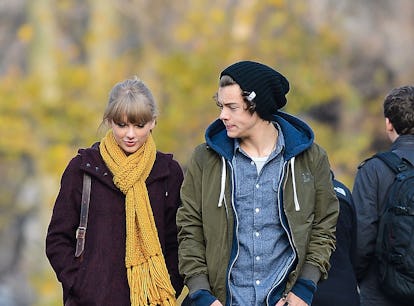 Taylor & Harry's Relationship Timeline Is A James Dean Daydream
It's time to study up before 1989 (TV) drops.
David Krieger/Bauer-Griffin/GC Images/Getty Images
The much-anticipated 1989 (Taylor's Version) — a re-recording of Taylor Swift's 2014 album 1989 — is set to be released on Oct. 27. For those who are new to the Swiftieverse, this means one very important thing: The Harry Styles and Taylor Swift relationship stans are about to be living their best lives.
Although Styles has been a fan-favorite Swift ex for years, the two dated very briefly, with their relationship lasting from 2012 to 2013. It's widely believed that Swift's songs "Style" and "Out of the Woods" are about the pair's short-lived romance. One Direction's song "Perfect" is also rumored to be about Swift, referencing her knack for writing breakup songs.
If you're curious about the details of this juicy romance, here's a timeline of their relationship — with everything you need to know about how they met, their dates, and the aftermath, including the song drama. Keep reading for all the Haylor tea.
March 31, 2012: The Pair Met Backstage at the Kid's Choice Awards
According to MTV, Swift and Styles' romance (or at least the first seeds of it) began when they met backstage at the Kid's Choice Awards in 2012. One Direction performed at the awards show, so maybe the two bonded over their dedication to stagecraft.
November 2012: Dating Rumors Started To Circulate
By November, official dating rumors began popping up. People reported that Styles was on set while Swift prepared for a performance of her song "State of Grace" on The X Factor. Apparently, the couple put on a PDA display as the One Direction singer picked her up and carried her offstage.
December 2, 2012: They Were Photographed On Their First Public Outing
The duo stepped out for the first time together in December 2012 on a romantic-looking stroll in Central Park, per Glamour. Whether this was an official date or not was never confirmed, but everybody was living for the new celeb couple and excited to see them out together.
December 10, 2012: They Were Spotted Holding Hands
Another paparazzi photo was taken of Swift and Styles, showing the two holding hands. According to People, the pic was taken as they left a friend's birthday party together. By this point, the 'ship name Haylor was gaining traction.
December 13, 2012: They Celebrated Taylor's Birthday
For Swift's 23rd birthday on Dec. 13, E! News reported that she celebrated with Styles in the English countryside. A source revealed that Styles surprised the "Red" singer with 23 cupcakes for her special day.
January 1, 2013: They Kissed On New Year's
Ringing in 2013 together, Swift and Styles were snapped sharing a New Year's kiss after Swift performed on Dick Clark's New Year's Rockin' Eve. The adorable moment was captured by a bystander and went viral.
January 4, 2013: Breakup Rumors Began
After their NYE kiss, the couple was reported to have left on New Year's Day for the British Virgin Islands. On Jan. 4, Swift was seen leaving the island by herself while Styles stayed, prompting reports of trouble in paradise.
January 7, 2013: Taylor & Harry Split
Just a few days after their vacation, People reported that Haylor had indeed broken up. There were no sources to vouch for the reason the couple ended their short romance, but according to a People insider, the breakup didn't seem that serious.
October 27, 2014: Taylor Released "Style" And "Out Of The Woods"
Fast forward to more than a year later, when Swift released her fifth studio album 1989. Fans speculate to this day that her songs "Style" and "Out Of The Woods" are about her rendezvous with Styles.
The guess about "Style" comes from not only the very on-the-nose name, but lyrics like, "You got that long hair, slicked back, white T-shirt," which might be a nod to Styles' long hair era. He also famously loved a white T-shirt.
October 16, 2015: One Direction Released "Perfect"
Another year passed, and One Direction released their album Made in the A.M. Fans believed the song "Perfect" was written about Swift, in part due to the lyric, "And if you're looking for someone to write your breakup songs about / Baby, I'm perfect."
When asked about it by James Corden at an Apple Music Event in London, Styles laughed and dodged the question. Styles was also asked by Entertainment Tonight, and he gave a vague answer acknowledging that while personal information is used as song inspo, it's not always so "literal."
April 28, 2017: Harry Talked About Their Relationship
In a piece for Rolling Stone, Styles was asked about his relationship with Swift and openly talked about it for the first time. In reference to their iconic first public outing in Central Park, the singer said that relationships, especially at a young age, can be hard and that it was definitely a "learning experience," per Elle.
When asked about songs that fans think are about him, Styles acknowledged that everyone writes about their own lives and that Swift is just "so good." He said he felt "lucky" if their relationship was the inspiration for the songs, thanking her for the time they spent together. It's giving major heart eyes for the way he talked so sweetly about Swift.
March 17, 2021: The Pair Reunited At The 2021 Grammys
At the 2021 Grammys, the pair were seen talking at the award show, and the conversation seemed to be pretty friendly. Swift stood to applaud when Styles won the Grammy for best pop solo performance.
February 8, 2023: They Had Another Grammys Interaction
Fans were obsessed with the Haylor reunion at this year's Grammy Awards in February. Swift was seen dancing during Styles' performance, and the two seemed to have a little chat, according to Seventeen.
There was some controversy with Styles' win — when the "As It Was" singer was on stage, chants were heard saying that Beyoncé should have won. It appeared that Swift was standing and clapping in support of the singer's wins, and of course, the Haylor stans were loving it.