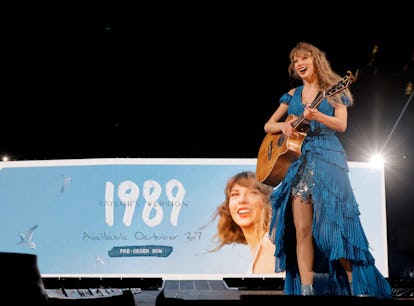 Swifties Think Taylor's Merch Is A 1989 Double Album Release Clue
Still hoping for a Harry Styles collab.
Swifties have a lot to enjoy this fall with both The Eras Tour concert film and the release of 1989 (Taylor's Version) on Oct. 27, but when it comes to Taylor Swift, they also know to expect the unexpected. Swift, who's the queen of masterminding and leaving easter eggs everywhere she goes, had fans unpacking the theory that Taylor Swift's 1989 (Taylor's Version) would be a double album release — and the clues were pretty convincing.
While fans did get a surprise 1989 (Taylor's Version) [Deluxe] album drop with the re-recorded "Bad Blood (feat. Kendrick Lamar) (Taylor's Version)" on it, Swifties still believe the singer has something else up her sleeve and hidden in the vault. Double album truthers on TikTok have been piecing together hints of two 1989 releases since 2019. It all started with "The Man" music video from Swift's Lover album, where Swifties spotted "1989" graffitied on the wall twice, and fans have since picked up numerous other clues that seem to support the theory of a 1989 double album.
With telling OOTDs, music video easter eggs, things Swift has said, and even costumes on the Eras Tour that fans are only noticing after seeing the movie, looking at all these clues on TikTok that are pointing to two 1989 releases will also really make you believe that something is coming.
The theories are compelling enough that if you weren't a believer before, you're at least considering the idea of what two 1989 albums would look like. I'm secretly hoping for a Selena Gomez duet or a live version of "Bad Blood" featuring the "hey stop" from The Eras Tour. You know, a girl can dream.
This article was originally published on