Alexa, Play "If This Was A Movie"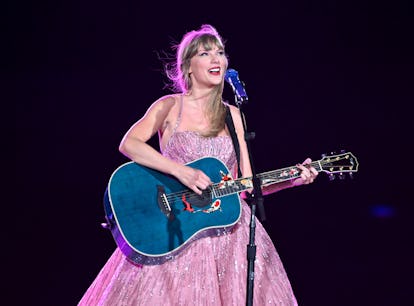 Taylor's New Eras Tour Stop Will Be In A Theater Near You Soon
International Swifties are in for a treat.
Tom Cooper/TAS23/Getty Images Entertainment/Getty Images
Taylor Swift just gave fans an iconic reason to not retire those eras-inspired friendship bracelets. On Sept. 26, the pop singer announced she's bringing her Eras Tour to AMC's big screen worldwide. This announcement is an exciting upgrade, as Swift originally announced the concert film would first release in North America. Her tour has been one of many sonic highlights this summer, so it's only right for her global fans to relive it (or for those who couldn't get past that notorious Ticketmaster fiasco, experience it for the first time) at their nearest movie theater.
Swift announced the worldwide expansion on Instagram. "The tour isn't the only thing we're taking worldwide," Swift wrote alongside a globe emoji. "Been so excited to tell you all that The Eras Tour concert film is now officially coming to theaters WORLDWIDE on Oct 13!"
This global trek can also be seen on the concert film's official website. Besides North America, the movie will be screened in countries such as Argentina, Austria, Colombia, Ecuador, Italy, Peru, Poland, Sri Lanka, Thailand, Ukraine and many more. That's not all, though. This sonic release is also slated to hit 13 more countries — think Brazil, Hong Kong, India and South Korea to name a few — on Nov. 3. Tickets for most of the international screenings will reportedly go on sale on Sept. 26.
This announcement is yet another exciting addition to Swift's tour, which has been extended and revamped with new openers more than 10 times this year. The 1989 singer first announced the tour film on Aug. 31, encouraging fans to wear their greatest "Eras attire and friendship bracelets." At the time, AMC Theaters also celebrated the film news on Instagram.
According to a press release, the movie — aptly titled Taylor Swift | The Eras Tour — is directed by Sam Wrench, a Grammy-nominated director who created concert films for artists such as Billie Eilish, Lizzo, and BTS. This isn't Swift's first time transforming her shows into an hours-long film. The singer joined forces with Netflix for her 2018 Reputation tour special, which showed behind-the-scenes moments of her performances.
True to Swift's penchant for hiding clues in her work, details about the Eras Tour movie are filled with Swiftie-clad Easter eggs. Clear your fall schedules and learn about Swift's upcoming film below.
The Eras Tour Release Date Is Around The Corner
Starting Oct. 13 (of course), Swift's film will reportedly run a minimum of four showtimes per day at U.S. AMC theaters on Thursdays, Fridays, Saturdays, and Sundays. It's not yet known if the international screenings will adopt a similar format.
Watch The Eras Tour Trailer
For those who've seen clips of Swift's tour on social media, it's clear these shows are stunning to look at — mistakes and all. This trailer only adds to that observation, as every inch of the stage is filled with theatrical flare, vibrant lights, and pyrotechnics galore.
How To Buy Eras Tour Tickets
Tickets, which are already on sale, can be purchased on AMC's official website. Adult tickets are priced at $19.89 while children and senior tickets will run at $13.13. Tickets for most of the international screenings will go on sale on Sept. 26; however, price points have yet to be released.
This article was originally published on