"Errors (Taylor's Version)"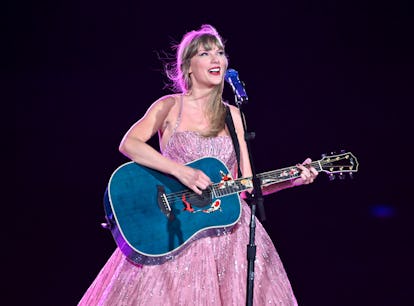 These Eras Tour Mishaps Are The Real Anti-Heroes Of The Year
Not even Swift's lucky number could save her from these mistakes.
Tom Cooper/TAS23/Getty Images Entertainment/Getty Images
When Taylor Swift infamously cooed: "It's me. Hi. I'm the problem, it's me," on "Anti-Hero," it's clear she was speaking about her own Eras Tour. Since March 17, the singer has been dazzling U.S. arenas with her 10-album discography, including underrated surprise tracks Swifties have been obsessed with for nearly a decade. The tour has been a massive (yes, earthquake massive) hit so far, so much so that Swift's reportedly extended it more than 10 times. With that demand comes more Eras Tour moments; however, not all of them will be perfect.
Swift has had several minor mistakes on this tour, stretching from wardrobe malfunctions to onstage setbacks. Oh, and her finding out that bugs don't taste that great. These lighthearted blunders have been just as memorable as Swift's live vocals, and fans have made TikTok compilations calling it the Errors Tour. It does have an interesting ring to it. Now, with her Errors— erm, Eras Tour staying on the road until November 2024, there's a chance even more mistakes might pile up.
Here are the funniest (and sometimes, shadiest) errors from Swift's tour so far.
This article was originally published on