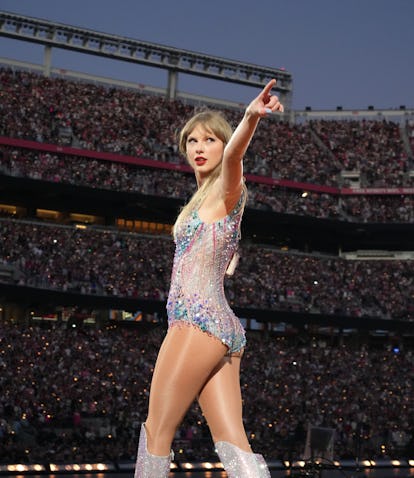 Swifties Caused A Literal Earthquake At The Eras Tour
They definitely shook it off.
Jeff Kravitz/TAS23/Getty Images Entertainment/Getty Images
Taylor Swift just proved she's a force of nature in a major way. Her Eras Tour is so massive that it's even causing the earth to shake. Following her two nights in Seattle, Washington, a seismologist confirmed that Swift's concerts created an earthquake, dubbing the phenomenon a "Swift Quake."
It's no secret that the Eras Tour is gargantuan in every way, with an over three-hour runtime of nearly 50 songs that has packed huge stadiums across the United States. It's so big that geologists have begun to pick up on seismic shifts caused by the show. Jackie Caplan-Auerbach, a geology professor at Western Washington University, told CNN that she noticed scientists in a local earthquake tracking Facebook group discuss the Eras Tour's seismic potential, and she was inspired to dig into the research herself. She concluded that Swift's two Seattle shows on July 22 and July 23 created a 2.3 magnitude earthquake, an even bigger quake than the famous 2011 "Beast Quake" that was attributed to rowdy Seattle Seahawks fans celebrating a huge touchdown by Marshawn "Beast Mode" Lynch.
"I grabbed the data from both nights of the concert and quickly noticed they were clearly the same pattern of signals," Caplan-Auerbach noted of her methods confirming the concerts were the source of the earthquake. "If I overlay them on top of each other, they're nearly identical ... I collected about 10 hours of data where rhythm controlled the behavior. The music, the speakers, the beat. All that energy can drive into the ground and shake it."
Of course, Swift's passionate fans also played a role in causing the ground to move beneath them, along with the singer's large setup for her stadium shows. And the world isn't going to stop shaking if off anytime soon. After Swift wraps up the U.S. leg of her Eras Tour in Los Angeles on Aug. 9, she's taking over the rest of the world with shows in Latin America, Asia, and Europe throughout the rest of 2023 and almost all of 2024.