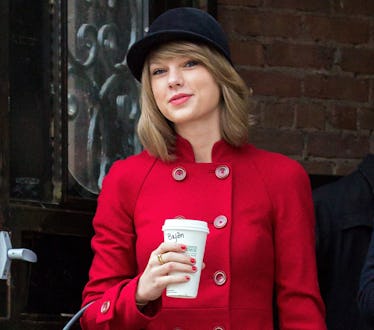 28 Taylor Swift Lyrics For Fall Captions Everyone Will Recognize All Too Well
Here's to your November flush and your flannel cure.
Taylor Swift is to autumn what Mariah Carey is to Christmas: You can't think of this particular time of the year without immediately singing one of her seasonal hits. And after the "Willow" singer's recent love letter to fall made headlines, I can't think of a better time to point out all the Taylor Swift lyrics that are perfect for fall-inspired Instagram captions.
If you're like the Cats actor, and are thriving because, in her own words, it's the season of:
Wearing tights for the first time in months and when the mornings are all chilly and you can see your breath and draw little pictures on foggy windows...
... not to mention all the "pumpkin flavored stuff" and "maroon/hunter green/mustard yellow color combos," as Swift mentioned in her ode to fall on TikTok, then you're probably posting so many pics of yourself in plaid, holding a PSL while surrounded by fall foliage on the 'Gram. Those are the times when an autumnal Taylor Swift quote is absolutely necessary.
Evermore is packed with more than a handful of tracks that could lend their words to your social media captions, two of which call out November specifically. And with Red (Taylor's Version) available starting on Nov. 12, now's the time to gather up those special lyrics from the queen of cottagecore. Here are 28 Taylor Swift lyrics from all her albums that are made for your fall photos on Instagram.
With the original version of "All Too Well" clocking in at just about five-and-a-half minutes and already consisting of a minimum of four fall-esque lyrics, can you imagine what the 10-minute edition on Red (Taylor's Version) will bring?