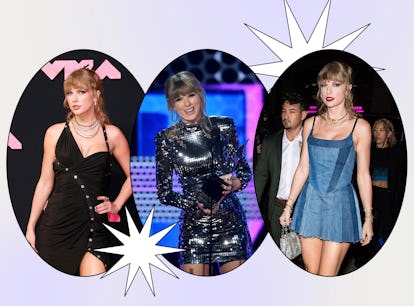 Taylor Dropped So Many Reputation (TV) Hints In Her New Interview
She knows what she's doing!
Kevin Winter/Getty Images Entertainment/Getty Images Taylor Hill/Getty Images Entertainment/Getty Images Splash by Shutterstock
As Swifties know, nothing is ever "just a coincidence" when it comes to Taylor Swift. Her devoted fans have examined every outfit, Instagram post, and music video from Swift in an effort to unveil any Easter eggs that might predict her next move, and their track record is quite impressive. They've predicted her album titles and song collabs, and even correctly foretold that she would announce the release date of 1989 (Taylor's Version) on Aug. 9, aka 8/9 — the last Eras Tour stop. Reputation (Taylor's Version) is the latest album with fan theories comparable to CIA-level investigations and once again, the fans found some convincing Easter eggs that corroborate their claims: that the re-release of her 2017 album is dropping sooner than you thought.
Out of all six of her re-records, Reputation (TV) is the one album that Swift has been the most discreet about. With her other albums, she dropped singles, created puzzles based on her lyrics for fans to solve, and even wore each record's signature color in cryptic Instagram posts to boost excitement before each release. However, with Rep, it wasn't until August 2023 when the album's hit single "Look What You Made Me Do" was included in the season premiere of Wilderness, a new Prime Video series, that fans even knew that the re-recording existed.
So, no, Swift hasn't come right out and posted her album cover with a release date attached, but fans aren't surprised, as they anticipated this would be her approach to the press for Rep based on an Instagram post from 2017. Just two months before the album's first release, Swift posted the cryptic caption, "There will be no further explanation. There will just be reputation" — a mysterious intention that people believe still applies six years later.
Of course, fans took to social media to debunk these Easter eggs — and some even pointed to theories about the exact release date. From her recent rotating blue and black outfits to the mysterious glitch on her website, here are the Reputation (Taylor's Version) fan theories that seem to have cracked Blondie's code.
Her Alternating Blue & Black Outfits
As soon as every re-release rolls around, Swift seemingly embraces the fashion and beauty aesthetics of each original album. For Speak Now (Taylor's Version), her rotation featured romantic shades of purple and pink. With Red (Taylor's Version), she wore the fiery hue in practically every IG post ahead of its Nov. 12, 2021, release. Unsurprisingly, after she announced the release date for 1989 (Taylor's Version), she was spotted wearing a lacy blue dress (reminiscent of the dress she wore in the "Style" music video) for a friend's wedding.
However, recently, unlike other eras, Swift has been blending the signature colors from 1989 and Reputation, alternating between blue-embellished preppy outfits and sultry black looks.
As soon as Swift first stepped out in a black tube top and a matching maxi skirt in August, fans immediately caught wind of this specific style choice, because as you know, nothing Swift does is coincidental.
She even got her celebrity friends in on the mischief — Blake Lively, Sophie Turner, Zoë Kravitz, and Gigi Hadid were among the few who were photographed wearing 1989 and Reputation-inspired outfits with Swift. One TikToker commented: "I just noticed Sophie Turner's blue sneakers with the all-black outfit. Coincidence…I think not," while another said, "She had a snake bracelet on at the VMAs when she wore the black Versace dress. This pattern is definitely a Reputation nod."
With this mixture of blue and black outfits, fans are speculating that Swift will drop Rep at not far after 1989 (Taylor's Version), which she officially released on Oct. 27. Could the new re-release be just around the corner now?
The "S" on the 1989 (Taylor's Version) Album Cover
As soon as the album cover for 1989 (Taylor's Version) was revealed on Aug. 10, 2023, stans got to work analyzing its features and quickly noticed a callout to Reputation. The first thing Swifties noticed was the two different letters in the art. While the "s" in "Taylor's" looks perfectly normal, the "s" in "Version" seemed to resemble a snake. Then, they realized the "I" and "O" in "Version" look similar to "10," and the "n" at the end of the word referenced November — leaving fans to conclude that Reputation will be released on Nov. 10, which just so happened to also be the six-year anniversary of the first release of the album.
The theory seemed solid, but when November came and went without Reputation, fans had to go back to the drawing board.
2,190 Days Theory
In the song "Glitch" on the Midnights album, there's a lyric that says "2,190 days of our love blackout." Swift broke her infamous social media blackout on Nov. 10, 2017, when she released Reputation for the first time. "2,190 days after Nov. 10, 2017, is Nov. 9, 2023 — the first show on the second stretch of the Eras Tour," one fan explained on TikTok.
This theory added even more weight to a potential November release, which sadly didn't come to fruition.
112-Day Theory (Feb. 16, 2024)
Fans believe Swift is releasing her (Taylor's Version) albums on a 112-day cycle. The Eras Tour began on March 17, 2023, and Speak Now (Taylor's Version) was released on July 7, 2023 — 112 days after the start of the tour. Then, 112 days after that, on Oct. 27, 2023, 1989 (TV) is scheduled to drop.
If she continues with this plan, some fans believe she will release Reputation (TV) on Feb. 16, 2024, and her self-titled re-release on June 7, 2024. Need to see some proof? Well, the Swifties came prepared. When her discography was sold, she lost the rights to 112 of her songs. At the first show in Mexico, Swift surprised her audience by performing "I Forgot That You Existed" and "Sweet Nothings" — tracks one and 12 off of Lover and Midnights.
The Glitch
After she partnered with Google to create 33 million puzzles that eventually released the names of her five vault tracks for 1989 (Taylor's Version), fans noticed a glitch on her website. While trying to solve her many puzzles this week, fans noticed when they reloaded Swift's website, the screen glitched black and white for too long to be ruled an accident.
She has a long history of connecting glitches in her music videos and her IG posts to Reputation. In August 2017, after three years of complete radio silence, Swift returned to social media with short clips of a snake — the mascot of the Reputation era. Each video featured very obvious glitches and since then, the only time her posts have suffered technical errors has been when she's teasing something about Rep.
The Glitch Pt.2
Another malfunction Swifties caught was posted on the Taylor Nation Instagram account, which is run entirely by Swift's management team. The Sept. 16 post was a throwback to the announcement of "Wildest Dreams (Taylor's Version)" two years ago. However, they put such an emphasis on the word "glitch" in the caption that fans knew this had to be an Easter egg straight from Swift.
"If you look carefully at the glitch photo, you can see it flashes to another photo. The other photo is a screenshot from the Miss Americana film when she's writing Reputation," said one fan. "Look at the overalls in the glitch photo. They look blue, but what if they are grey? And look at her hair in the glitch — it looks like her hair in the Rep era. I think it's going to be the new album cover," theorized another devoted Swiftie.
Her 2023 MTV Video Music Awards Speech
Another cryptic pattern of Swift's? Revealing things about her upcoming releases at the MTV Video Music Awards — last year, during her acceptance speech, she even revealed that Midnights was coming. This year, some fans thought Swift might announce the release date of Reputation, but unfortunately, she didn't. Instead, she used a four-minute speech to plant even more Easter eggs into the minds of Swifties everywhere.
While accepting the award for Best Pop Video, she included that she "loves slinking around different genres" — a not-so-subtle phrase that Swifties caught immediately. "What do you think of when you hear the word slink? That's right, a snake," commented one TikTok creator. "Also did you see her hand movements when she said slinking? She literally turned into a snake," posted another.
Swift's all-black outfit further confirmed fans' theories. Instead of staying true to the 1989 aesthetic, she chose a black Versace gown and a snake bracelet — further alluding to the return of Rep's edgy style.
The Eras Tour Trailer
On Aug. 31, 2023, Swift announced that a recorded version of the Eras Tour would be coming to AMC theaters all around the U.S. on Oct. 13. She posted a sneak peek of the film to her YouTube channel and Swifties were quick to notice that clips of her Reputation set list kept flashing in and out of frame.
"The Reputation album only has four songs on the entire setlist of the Eras Tour, so otherwise it doesn't make sense that so much of the Reputation segment would be shown in the trailer. Unless it's an Easter egg for Reputation (Taylor's Version) coming soon," theorized one TikTok content creator.
Her Eras Tour Premiere Caption
When Swift's concert doc finally did have its L.A. premiere on Oct. 11, she dropped a surprise announcement that the movie would be released a day early in America and Canada. While that was exciting, what really fascinated Swifties was her choice of words.
"Look what you genuinely made me do," Swift's Instagram caption began, a clear nod to Reputation's lead single. She ended the note by writing, "Getting in the car now..." Fans interpreted the signoff as an allusion to the Rep track "Getaway Car."
Her Time Profile
On Dec. 6, Swift covered Time Magazine as the publication's "Person of the Year," and the interview was notably very Reputation-coded. A large part of the write-up focused on Swift's 2016 argument with Kanye West and Kim Kardashian, which infamously inspired much of Swift's dark 2017 album. The profile's accompanying photos nearly all styled Swift in black outfits or in a black-and-white filter, emblematic of the Reputation era.
Swift also used the profile to tease her Reputation (Taylor's Version) vault tracks for the first time, promising the upcoming releases will be "fire."
"TRuSt ISSueS" & Instagram Reorganization
After the Time article went up, Swifties noticed some very sus activity on Swift's Instagram. In a post celebrating the honor, Swift wrote about the "tRuSt iSSueS" she's had with the media in the past. Fans honed in on the capitalization choices, theorizing the "RSSSS" was a wink to Reputation and the hissing of a snake, that album's mascot.
Perhaps even more telling, Swifties noticed that the pop star unpinned her 1989 (Taylor's Version) announcement from her Instagram grid when she posted the Time photos, an indication that era was coming to an end. Fans recalled how Swift previously announced 1989 (TV) 13 days after she unpinned her Speak Now (TV) announcement, prompting theories that Reputation (TV) may only be weeks away.
This article was originally published on