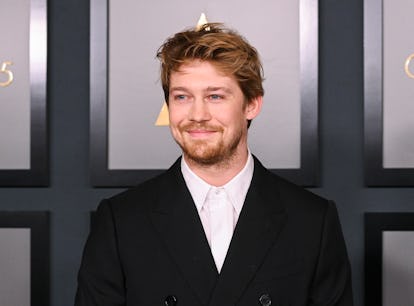 Swifties Are Convinced Joe Alwyn's IG Photo Dump Has Easter Eggs
BRB, gotta obsessively over-analyze all these pics for the rest of the day.
Gilbert Flores/Variety/Getty Images
Joe Alwyn has been radio silent in the five months since his breakup with Taylor Swift, but that all changed on Sept. 5. The actor surprised everyone by posting to his Instagram for the first time in over a year. Although the casual pics seem to chronicle his single-boy summer, Swifties have also pointed out that they seem to contain several Easter eggs that reference his ex-girlfriend. From specific song lyrics to just an unmistakable vibe, here are all the Taylor Swift Easter eggs fans are losing it over in Alwyn's surprise photo dump.
Though Swift has subtly referenced her breakup with Alwyn a few different times while on her Eras Tour, Alwyn himself is not headlining one of the biggest tours in the world, so he's been able to disappear a bit and avoid all the chatter. That's what made his Instagram photo dump on Sept. 5 such a big deal. The carousel of ten photos was shared five months after his breakup with Swift in early April, and marked Alwyn's first post to his Instagram grid in a year and three months.
Naturally, the pics came as catnip to super-sleuth Swifties, who immediately shared theories about how each photo is subtly referencing Alwyn's famous ex. To fully excavate all the Easter eggs, let's go through each photo one by one.
1. Basking In Daylight
There really isn't too much to read into the Alwyn's first pic, which is simply of a window. But fans on TikTok think that it could reference Swift's song "Daylight," which is rumored to have been inspired by Alwyn.
2. Peter Losing Wendy
The second picture is one of the most eyebrow-raising for Swifties. The shot of a young boy holding a bow and arrow, seemingly dressed as Peter Pan, brings to mind a couple of Swift's songs. Of course, "The Archer," another Lover track that Swift wrote about Alwyn, is a clear reference. And fans also saw the shot as a nod to a "Cardigan" lyric, in which Swift sings about "Peter losing Wendy."
3. Big Reputation
The pair of selfies in Alwyn's photo dump don't seem to have much of a Swift connection, although some fans think the first one looks a bit like the Reputation cover, the album that marked the beginning of their relationship.
4. Jamming To Bon Iver
Another big clue is in the fourth slide, which is a video clip from a Bon Iver concert. Swift's close connection to the band is well-known — she famously collaborated with the band on her folklore duet "Exile." But more than that, the meaning behind the song Alwyn posted stood out to Swifties. The song, "715 - CR∑∑KS," tells the story of a man who was recently broken up with reflecting on his past relationship by the side of a creek.
5. Your Ivy Grows
The fifth photo shows a bunch of plants growing around a stone house. The allusion is obvious to any Swiftie — in Swift's evermore track "Ivy," she sings, "My house of stone, your ivy grows, and now I'm covered in you."
6. An Artsy Attachment
Alwyn showed off a bit of embroidery in his sixth pic. The colorful stitching was an instant callback for Swifties, given Swift's well-documented passion for the hobby. Fans know all too well that she loves to embroider custom blankets for her friends' kids, as she's done for Katy Perry's baby and Gigi Hadid's as well.
7. Simple Selfie
Yeah, there's really nothing to over-analyze in Alwyn's second selfie — it's just a nice pic of the actor smiling in some sunglasses.
8. Getaway Car
The eighth pic appears to possibly be a throwback to when Alwyn was promoting his 2022 French thriller Stars at Noon. But of course, the automotive imagery also calls to mind Swift's Reputation cut "Getaway Car."
9. I'd Never Walk Cornelia Street Again
The sketch of the apartment building along a street is giving off serious "Cornelia Street" vibes, a song that's very heavily believed to be about Swift and Alwyn's relationship.
10. I'm Feelin' 33
There aren't any obvious Easter eggs in Alwyn's final photo, of a cap that seems to have the number 33 written on it. Swift does happen to be 33 years old, though.